Lexus' LC 500 marks a radical design rethink for the Japanese marque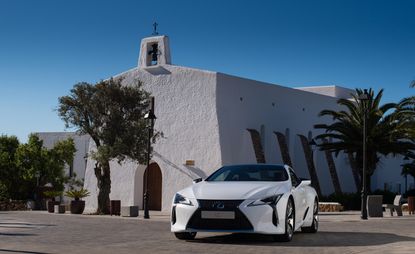 (Image credit: Lexus)
Our twenty-minute drive is scrupulously planned. It involves an elaborate theatre of surprise 'experiences' organised by an independent events agency and designed to make catchy and colourful social feeds for the influencers amongst our small group of journalists. So, we join a staged wedding replete with flamingo dancers, are pulled over by an acting policeman; acrobatic dancers posing as road workers almost jump on the car bonnet, as we arrive at what could have been an idyllic Ibizan bay for a crew of aggressive dancers moving to the beat of Uptown Funk, the chart-topping track by Mark Ronson who happens to be the car's brand ambassador. It feels like an entirely missed opportunity, for the Lexus LC 500 coupé is a fine product with little need for such crude distractions.

This is a pinnacle car for Lexus, representing the Japanese marque's bold ambitions to be a luxury maker of daring, distinctive, provocative cars that are fun to drive. Only two models of this front-engine, rear-wheel drive car are on offer – a 467bhp V8 and a more ecological hybrid linking a 295bhp 3.5-litre V6 petrol engine to an electric motor for a 354bhp power output. Lexus claims a sub-five second sprint from 0-62 mph on both models which come with ten-speed gearboxes, a first for Lexus, and a choice of three trim levels – Standard, Sport and Sport+ – with the last two swapping the glass panoramic roof with lighter carbonfibre.

The following day we convince the organisers that a car needs to be driven to be reviewed, and so are granted a set of keys for the morning. The previous day's ride had been the hybrid LC and – as far as it is possible to judge in such a brief and interrupted time – it is fun to drive. Uphill, the V6 kicks in letting out a seductive roar, then on descend towards the coast, easing off the pedals, the engine switches to electric mode and, like a surfer, it glides into corners on clean energy and in sheer silence.
In contrast, today's V8 model offers a continuous sweet roar as we drive along the island's twisting hilly roads. Our bright yellow Lexus LC feels less brash in Ibiza, the sun mellowing its tone and the colour blending with the island's wild and golden landscape as we drive inland and north through pretty villages, pass the dramatic Es Vedra rock formation as it appears and then suddenly vanishes, and onto La Granja, one of many ecological oasis hidden amongst untamed forests with the bright lights of San Antonio Bay in the long distance.

This relatively young company, born in 1989 with the launch of the LS, is generally associated with solid, safe cars – family saloons and SUVs. Yet going forward Lexus wants to be radical; it has ambitions to create exciting products, each model line boasting its own distinctive look with identifiable visual links. Elements such as the spindle grille and the use of the 'L' motif in the lights will help form a family bond.

The LC design is based on the LF-LC concept car of 2012. Lexus calls its current design theme 'L-finesse' and defines it as the application of edgy design and technology with a touch of, unsurprisingly, finesse. With its rakish looks, and the provocative angular exterior design, the LC is certainly not timid. There is a great deal of visual drama here, with elements of Japanese referencing (such as the Samurai sword) dotted in and around the car.
The marque describes the LC as a sports car with GT leanings – the grand touring element hinting to a car that will drive four in relative comfort over long distances. Perhaps this claim is more attuned to the hybrid model, nevertheless the low set front seats, which we're told took some years to master, are perfectly comfortable.

The LC is very much driver-focused – it feels like a racing cockpit with the instruments enveloping the driver and the main pedals ergonomically positioned. Much effort has been placed on making the interior luxurious and sporty – tactile leather seats and steering wheel, prominent stitching, an analogue clock – although there are perhaps a few too many buttons on and around the steering wheel which can be distracting to the driver.

Some 6,000 cars will be produced annually with the US representing the main market, and the two models are equally priced from £76,595 to £90,000 depending on spec when they go on sale here in the summer.

Japanese car marques have sometimes struggled with finding their own unique visual voice. Often the visual references can be a little crude – too much of a focus on old or new Japan. Being the pinnacle car for Lexus, the LC has had to be bold to be the highest expression for this new, confident Lexus. It is a brave proposition, but also a welcome addition to the crowded sports car market.
INFORMATION
Lexus LC500, from £76,595. For more information, visit the Lexus website (opens in new tab)