Lamborghini Gallardo Spyder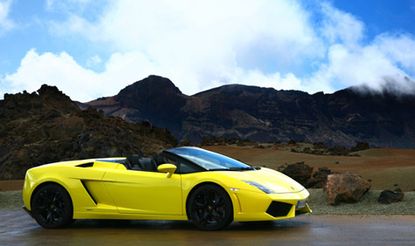 (Image credit: Lamborghini)
Wallpaper* Newsletter
Receive our daily digest of inspiration, escapism and design stories from around the world direct to your inbox
Thank you for signing up to Wallpaper. You will receive a verification email shortly.
There was a problem. Please refresh the page and try again.
Some brands are content to have their identities set in stone, ensuring that each and every future product is simply an evolutionary enhancement of the core values that made their name in the first place. While many car companies want a fluid image that can shift as times and attitudes change, there are a few maverick brands unafraid to seen to go against the flow.

Lamborghini have no problem with being a high performance car maker in an eco-conscious world; they point out, not unreasonably, that their slender production volume and the 'occasional use' quality of their cars means their overall emissions are relatively low.
See more of the new Lamborghini Gallardo Spyder

With the sporting end of the market still locked into a horsepower war – woe betide the manufacturer that blinks and boldly steps out with a car offering less power than its rivals – we can still be sure of 500+ horsepower outputs for the foreseeable future.
This, we are assured, is not an atmosphere-roasting catastrophe. Incremental improvements mean that the modern supercar is leaner and cleaner than ever before. Let's not make excuses, though: these cars are never going to clip under the EU's projected average CO2 emissions, not now, not ever. And that, we suspect, is just how their designers like them.
A short Lamborhini history
Lamborghini's modern era began with the entrance of Audi as financial fairy godmother, bringing with it the deep pockets of the VW Group to haul the company back from its decades in the supercar wilderness, tossing out endless ultra-limited specials for a die-hard audience of motoring journalists, sultans and eccentric financial wizards.
Although the first leg of Lamborghini's life was spent challenging Ferrari with a respectable series of elegant, powerful and distinctive coupes, culminating in the genre-creating Miura supercar of 1966, the company then entered a phase of unabashed automotive ostentation, kick-started by the Countach, Marcello Gandini's 70s-era metal wedge: no other car has been so perfectly paired with the adjective 'outlandish'.
The die was set, from Countach through Jalpa and Diablo: Lamborghini was about power and extravagance. Following a period of ownership by Chrysler, the company was flipped over to the Indonesians, with seasoned sports car executives holding the fort back in Europe, driving sales steadily upwards. Enter Audi, which consolidated its intent by launching the Murcielago in 2001 and proving to everyone that VW Group ownership needn't dilute the qualities of the cars. The V12 Murcielago was followed by the V10-powered Gallardo in 2003; together, the two models have outsold every other Lamborghini ever made in the preceding years.
What changed? Reliable engineering, enduringly dramatic styling and the global demand for supercars, helping sales rise inexorably throughout the late 90s and beyond. The Gallardo was recently given a serious overhaul, with aesthetic tweaks joined by a full-scale engineering fillet, making the car faster, lighter, leaner and more efficient into the bargain.
The latest creation
The Gallardo LP560-4 Spyder, to give this car its full appellation, is a thing of visual delight. Styled, like the Murcielago, by a team headed up by the multi-lingual, continent-hopping stylist Luc Donckerwolke, the Gallardo succeeds on several levels. Not only does it reference Lamborghini's historic portfolio - crammed full of both elegance and insanity, most often contained within the same car – but it's also brutally contemporary.
From behind the wheel, the modern Gallardo has few quirks (although Sant'Agata's seamstresses are only too eager to deliver a retina-searing experience of polychromatic hide). Most of the bits that need to work efficiently and not ostentatiously are simply plucked from Audi's well-stocked parts bin (an arrangement that might make Ferrari rather jealous). The steering is direct, the brakes reassuringly efficient and the driving position surprisingly ergonomic.
Your main hazard is other road users: in the complete inverse of the police car effect - where a patrol car carries with it a bubble of hyper-conscious drivers, consciously sticking to the posted limits – the Gallardo forms a buffer zone of self-conscious idiocy, a mobile a mobile accident blackspot created by other road users, overwhelmingly of the male persuasion, attempting to demonstrate their superior wheelmanship.
Sadly, your unwanted competitors are probably all too aware that the Gallardo contains a V10, a highly tuned version of the engine also found in the Audi RS6 and the new R8 V10. In the Gallardo, it's been given free reign to rev high and loud, rattling the urban environment and making every traffic light an occasion. Shrinking violets should note that the front suspension can be raised up by five helpful centimetres to help negotiate urban speed bumps (the sound of unwanted automotive schadenfreude is the heavy crack of carbon fibre front spoiler connecting with raised tarmac).
With sport and track modes, four wheel drive and the aforementioned power, the Gallardo feels supremely wieldy, despite its size. This is a car so easy to drive that the controls swiftly become second nature. With the 70s era cars now reduced to a form of kitschy nostalgia, many might consider a Lamborghini to still be a step too far. However, low level mass production has helped this most bloody-minded of companies to create a modern motoring icon, all ability and no unnecessary flash.
Receive our daily digest of inspiration, escapism and design stories from around the world direct to your inbox
Jonathan Bell has written for Wallpaper* magazine since 1999, covering everything from architecture and transport design to books, tech and graphic design. He is now the magazine's Transport and Technology Editor. Jonathan has written and edited 15 books, including Concept Car Design, 21st Century House, and The New Modern House. He is also the host of Wallpaper's first podcast.