Physical finds: Julien Rademaker opens Amsterdam interior design salon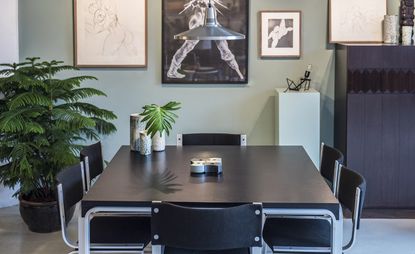 (Image credit: Dim Balsem)
Since his childhood spent scouring the flea markets of the Netherlands, the Dutch stylist, art director and graphic designer Julien Rademaker has developed a refined eye for interiors. Transcending the ideology that one man's trash is another man's treasure, his newest venture, 'Gevonden op Marktplaats' – 'Found on Marktplaats' – sees a shift to trawling the titular online marketplace (think a Dutch Gumtree or eBay). Rademaker's aim: to locate rare and unique furnishings that others would overlook whilst consequently creating his own 'portfolio of taste and style'.

Due to Marktplaats' somewhat confusing and complex interface, most lack the patience and control required to discover the hidden gems within the depths of the site, so Rademaker acts as 'middleman', creating a connection between seller and buyer. Soon after expanding his collection and finding himself short of space within his Amsterdam apartment, Rademaker launched a series of salons, to provide a physical location in which the general public can browse his carefully edited selection.

Rademaker's online explorations reap great rewards: recent discoveries include a set of newly upholstered pink 'FM60' chairs by Radboud van Beekum for Pastoe; a 'Pat Conley II' chair by Philippe Starck; and a pair of classic Gispen '1401' chairs, upholstered with MODE furniture fabric by Dutch textile designer Mae Engelgeer. Other highlights for purchase include an abundance of Memphis Milano inventory, such as an original 'Orinoco Vase' by Masanori Umeda; a 'Cucumber' vase by Martine Bedin; and a 'Kristall' table by Michele de Lucchi.

The 700 sq m Gevonden op Marktplaats Winter Salon runs in Amsterdam until the end of April. Providing the public with a unique and unexpected opportunity to purchase rare and covetable design pieces, the store simultaneously showcases Rademaker's passionate and sensitive approach to collection, exhibition and context.
INFORMATION
For more information, visit Julien Rademaker's website
Photography: Dim Balsem
ADDRESS
Gevonden op Marktplaats
KNSM-laan 301
Amsterdam