Scents of direction: Gallivant's globe-trotting fragrances capture the rhythm of the city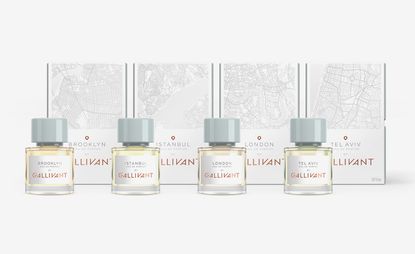 (Image credit: press)
Don't call Nick Steward's new fragrance brand, Gallivant, niche. It may be small, but it has big ambition. The line, as the name suggests, is the olfactory memoir of a well-travelled man. A linguist who wraps his tongue round five or six languages, Steward has lived and travelled extensively – resident in metropolises as wide apart as Damascus and Paris – he is passionate about cities, and their own personal poetry, which he aims to capture in Gallivant. The launch collection covers London, Brooklyn, Tel Aviv, Istanbul. Amsterdam and Berlin will follow soon.

Steward is no olfactory upstart, however – until recently he has worked, ironically, with one of the pioneers of the niche category – L'Artisan Parfumeur, as creative director, and previously with beauty world giants Puig and L'Oréal in marketing roles. He is passionate about fragrance development and wanted to keep things simple and honest in the making of Gallivant. He is pushing the smaller bottle too – which is fittingly more travel-friendly, but also allows people to try something for a while – and then maybe change to another scent, before they tire of it.

To translate his city portraits into scents he called on Venice-based nose Giorgia Navarra, the protégé of Bertrand Duchaufour, a long time contributing nose to L'Artisan Parfumeur, and Paris-based Karine Chevallier. 'I needed feminine energy in this project,' he says of his choice. There is something lacking when you work only with men.'

The pair had plenty to work with – Stewart paints a vivid picture of his favourite cites, in snapshots, textures, smells and sounds. We are used to fragrance brands linking the visual arts to the artistry of scent, but Steward claims another form of synaesthesia – he often hears smells. 'For London I hear the Pet Shop Boys' West End Girls. I hear a walking rhythm,' he says while painting a picture of the city's abundant flowers (represented by rose de mai) under-pinned by grit and dust, and leather.

Brooklyn is 'linden blossom, negroni cocktails, and clean brownstone apartments'. Istanbul depicts the collision of the Middle East and Europe in an oriental scent with clean modern spices and amber notes, while Tel Aviv tells a story of the beach, of the sun, and of fruit stands. Amsterdam speaks of the minerality of the canals, of freedom, dark-toned interiors with furniture in the middle of the room (seemingly, the Dutch don't like to clutter their walls). Berlin portrays urban beaches, classicism and brutalism, and lack of inhibition.

There's nothing new about scents being created as travel souvenirs, many perfumes are situational, but Steward's take is unique. It's that of a true insider, who has lived and observed in obsessive details the pulse and poetry of the cities he bottles.
INFORMATION
£65, for 30ml; £18 for the discovery set. For more information, visit the Roullier White website
Receive our daily digest of inspiration, escapism and design stories from around the world direct to your inbox