Fusion driving: Infiniti reveal the QX70 design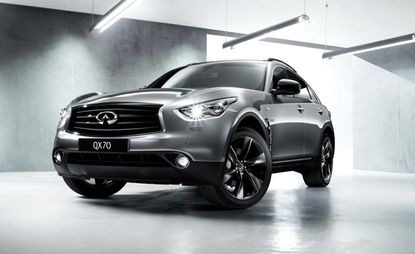 (Image credit: press)
Fusion cuisine has been around in some form for decades; pairing two unlikely styles often divides critics and diners alike, but usually draws enthusiastic discussion regardless. The concept rarely translates to other mediums. However, in recent years, the spirit of fusion has been infiltrating the motoring world. As a result, public taste has been aroused by several servings of intermingled cross-pollination. For example, BMW's X6, the Porsche Cayenne and the Range Rover Sport are all established sellers as well as prime examples of vehicles following a similar principle of having one's cake and eating it. Blending performance with SUV scale, they're part of a fractured car market where every conceivable niche gets explored.

Wallpaper* recently took delivery of most recent incarnation of Infiniti's QX70 (opens in new tab), the 'Design' edition. Most accurately categorised as an amalgamation of SUV with coupe styling, the QX70 is actually rather elegant, with an elongated bonnet giving a feel of low-slung stealthiness, conjuring an impression of speed even when static. The theme is continued in the imposing design detail, with black roof rails and black six spoke alloy wheels creating a menacing backdrop to the subtle dark chrome grilles, smoked headlamps and sunken air intakes.

Inside, the QX70 is a more welcoming proposition. The dark leather interior is punctuated by black lacquer trims and creates the intended impression of athletic luxury. A spacious cabin packed with (mainly standard) gadgetry aids the driving experience, with lane departure prevention, rear parking cameras and heated/cooled ergonomic sports seats to assist even the most demanding of drivers.

On the road, the QX70 continues its sporty remit. Optional suspension modes allow you to flit from stiff (standard) suspension to even stiffer (sport) mode. The latter sharpens up the car's cornering ability, which is surprisingly accomplished for a vehicle weighing the best part two tons and makes up for an even stiffer ride. Available engines include an outlandish 5.0-litre petrol, although the 3.7-litre petrol and 3.0-litre diesel power trains are more realistic with running costs in mind. We trialled the diesel, which was amply powerful to respond to almost every circumstance.

Despite being a Japanese firm, Infiniti have largely enjoyed sales success in mainland America and only began extending the brand into other target premium sectors in recent years. The QX70 Design exists as a small part of a long-term strategy to have the European and Chinese markets sit up and take note.

The blending of Asian and European cuisine took time to reach a wider audience, but when it eventually did the concept became a household name. With the backing of Nissan, Infiniti are set to achieve similar levels of recognition. The prospect of the badge becoming a more common sight across European roads is an appetising proposition. The QX70 is an acquired taste, perhaps, but the brand's next big dish, the Q30, should really bring the marque to a wider audience.
INFORMATION
The Infiniti QX70 Design is available from £50,350
ADDRESS
Infiniti Quality Centre
266–270 Gunnersbury Avenue
London, W4 5QB
VIEW GOOGLE MAPS (opens in new tab)