Flame thrower: L'Objet unveils four burning stories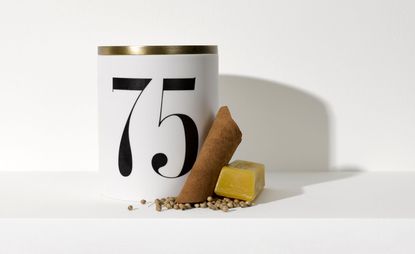 (Image credit: TBC)
Scented candles may be ten a penny these days, but we were intrigued when Elad Yifrach, founder of upscale homewares brand L'Objet, invited Wallpaper to the pre-launch of his Parfums de Voyage at Casa Cruz in London's Notting Hill. Israeli-born Yifrach founded L'Objet in 2004 after a successful interior design career in Beverly Hills, and has since won plenty of admirers around the world.

The new range includes three candles, inspired as its name suggests by Yifrach's travels: though based in New York he's a tireless globe-trotter, and each of the three perfumes in the range is based on a different imaginary story.

Number 6, Jasmin d'Inde, takes an unlikely meeting for its inspiration, bringing together a saffron baron from Kashmir with a lowly jasmine-picker from southern India, who meet as the market bell strikes six. Its perfume is a heady mix of saffron, cumin and nutmeg, jasmine, patchouli and sandalwood.

Number 28, Mamounia, sprang from a memory of Yifrach's grandparents, who kept a house in Morocco with a street number of 28. Yifrach describes the scent as his evocation of the smell of the flower-filled courtyard of his grandparents' house, rich with orange-blossom, spearmint and geranium.

Number 75, Thé Russe, is arguably the most masculine of the three, and is redolent of Russian leather and the aromatic aroma of strong Russian tea. The story is set in 1975, when a Parisian antiques dealer visits a Russian collector in St Petersburg.

Completing the range is an amphora-shaped incense burner in which to burn Japanese incense sticks impregnated with the Thé Russe scent. A nod to Classical prototypes, it harks back to the earliest forms of perfume, and to the Latin origins of the word itself, per fumum.
INFORMATION
Candles, €85 each; Amphora Incense Holder, €165; Thé Russe Incense Sticks, €40 for 60 sticks