Bucking the trend: Wallpaper* talks SUVs and more with Ferrari's Flavio Manzoni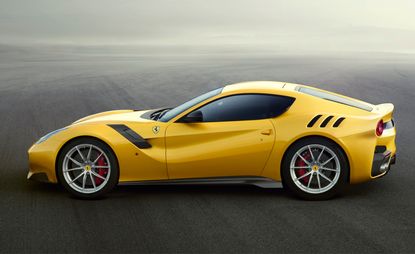 (Image credit: Ferrari)
Porsche has long offered them, Bentley's just launched one and Lamborghini and Rolls-Royce are soon to reveal theirs. But archetypal sports car brand Ferrari still says it won't make a luxury SUV – despite the segment being one of the fastest growing in the world. Wallpaper* caught up with Ferrari's vice-president of design – the 51-year-old, Sardinian-born Flavio Manzoni – to discover why he won't be joining the SUV party, why design students need to be more imaginative and how he manages to remain curious...

W*: How long can Ferrari keep resisting the ultra-luxury SUV trend?
FM: Ferrari doesn't want to make anything that follows a trend. We are not followers. I don't think an SUV can be a supercar. Every time we work on a new Ferrari we try to improve every aspect, including the centre of gravity – so an SUV is not a Ferrari. I don't understand why so many other brands are doing them. In my opinion it shows a lack of courage.

Does Ferrari have a design philosophy, and if so, what is it?
We never follow one philosophy like 'kinetic design', 'flame-surfacing' etc. These are slogans. Design is a form of language, that needs to transmit the soul of the project, so we're not so strict on the use of a 'family feeling'. We don't want to have to apply the same design criteria, repeated one hundred times. This doesn't work. We have to be more free, to take care of the processes of the brand. It's a subtle balance.

With your enlarged in-house team do you still work with independent firm Pininfarina to design new Ferraris?
It's a combination, but I have to say the results of the Ferrari design team are so high, it's almost natural to develop most of the production projects in-house. Pininfarina is maybe going back its roots working as a coach-builder for one-offs and limited edition projects where the skill is to create a new body for an existing Ferrari. Due to the increasing complexity of our cars it's much more useful to take advantage of the synergy of working in-house with the departments. Geographically there are a lot of advantages too; we can meet immediately to discuss design engineering issues, it's so fast. We work at the same speed as a Formula 1 department.

What abilities do you seek when recruiting new designers?
Normally what I look for is a really gifted designer, able to imagine, not to sketch, to find something. The capability to dream and think about something that is completely new is not easy. Most of the students today are too cautious. There is a mental pollution.

How do you find inspiration for new designs?
Curiosity about the world, not just cars, means you have a more creative mind. A humble approach is really important too. I'm a bit upset about so-called novelties that are not new. I would like to see more boldness. We never make fake things. Every air intake we make is because we need it. Look around and there are so many fake air intakes, even closed ones. This is not design.
INFORMATION
Excerpt from Car Design Review 3, published by Ultima, £50, out now (opens in new tab)
Photography courtesy Ferrari
Guy Bird is a London-based writer, editor and consultant specialising in cars and car design, but also covers aviation, architecture, street art, sneakers and music. His journalistic experience spans more than 25 years in the UK and global industry. See more at www.guybird.com (opens in new tab)