Ferrari's supercar factory is surprisingly serene
We expore Centro Stile – the recently opened addition to Ferrari's Maranello plant – accompanied by Ferrari design director Flavio Manzoni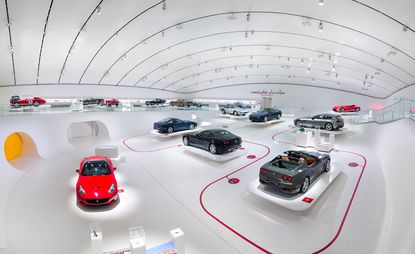 (Image credit: press)
The Ferrari Maranello plant is not quite what you might expect of a supercar factory. White stones and water elements, and abundant bamboo provide a sense of peace and calm. There are over 200 trees planted on this site, many inside the factory. There is some automation, yet most of the car making is carried out by hand with a strong focus on recycling materials where possible. The home of Ferrari feels young and vibrant. It is also a bit of an architectural wonder with buildings by Jean Nouvel, Massimiliano Fuksas, and Renzo Piano's dramatic wind tunnel dotted around this historical site.

The latest addition is Centro Stile design centre, which opened in September 2018 to house around a hundred vehicle designers, digital surface modellers, colour and trim specialists. We caught up with Ferrari design director Flavio Manzoni to see how the building will impact the marque.
Wallpaper*: On arriving at Ferrari nine years ago, you set out to establish an internal design team to be based at Maranello. This is all very new for Ferrari, a marque accustomed to collaborating with external teams from Pininfarina, Zagato and other Italian design studios. How do you see Centro Stile impacting on your future work?
Flavio Manzoni: It is a new way of working for us – a new reality for Ferrari. In the past many clients would request a unique Ferrari, and it was normal to assign design to one of the coachbuilders. Step-by-step, Ferrari is realising the importance of working together as a company, creating a process that involves interaction between design and engineering. The studio allows us to inspire the creative team and the engineers with our visions. It also helps us to discuss our ideas with management at the start of each project, and to find solutions that answer our imagination.

W*: You personally collaborated with architect Davide Padoa of Design International on the design of Centro Stile, an impressive 1,600 sq m structure of complex concave and convex surfaces, boasting a double-skin façade of triangular glass and gilded aluminium. What drove you creatively?
FM: Initially we thought of doing a functional building, but the design evolved to be more sculptural. Our objective was to create a 'wow' effect – a surprise when you walk in from the old Ferrari entrance to the Maranello site. There is great precision in its construction, and there is a strong relationship between the form of the building and our cars. The surfaces suggest Ferrari design with these concave and convex surfaces and the interplay between light and shadow. The second skin gives an amazing pattern and works well as a filter to the outside world.
W*: This part of northern Italy, Modena and Emilia-Romagna where Enzo Ferrari was born, produces some of the finest ingredients in Italian food, and it is a region renowned for its gifted artisans and dedication to the craft of making. What impact does the location have on how you work?
FM: A lot. We use real sculptors here to give a human touch to surfaces because for Ferrari technology is not the final objective. At Ferrari form follows function but with an artistic appeal and the imagination to create an organic shape that connects with its function. It is about making timeless design.

W*: The Ferrari family has evolved in recent years to include cars like the latest Portofino grand tourer. Created to be more of an everyday drive-around, this model and the California that came before, have opened the marque to a much broader customer group. With the family expanding, how different is it to direct the two road-car production lines: the sports series and GT?
FM: One of my jobs is to clearly identify the two series. The sports cars are technically driven, so performance is pushed to such a high level that the design needs to incorporate a great many technical solutions to reach the goal. The GTs, on the other hand, are design focused – they are elegant and refined. For example, the 250 GTO, the Daytona, or even the Ferrari Monza, have a certain elegance and a purity to their shapes.
W*: Each floor of Centro Stile studio is dedicated to one element of design – sketching, modelling, presenting and bespoke – including the Atelier areas and Tailor Made personalisation department where your clients can intricately customise their cars with the design team. How important is personalisation to Ferrari?
FM: Tailor Made is increasingly a very important area for the company. It gives us designers the opportunity to create unique identities for our cars. The commissions can also challenge us to work with new materials and exciting shapes as the process is very experimental. Our customers are passionate about Ferrari, and make the experience very interesting for us.

W*: You were trained as an architect in Florence where you also specialised in industrial design. As a car designer, you have worked with a wide range of brands too – at Fiat, Lancia and Maserati, and within the Volkswagen Group where you helped shape some inventive city cars, such as the brilliant Up. How has your background helped shape how you approach car design at Ferrari?
FM: What we do at Ferrari design is multi-disciplinary and we are constantly inspired by other fields. I learnt a great deal from working at other car manufacturers. For instance, Volkswagen showed me how the Germans think and work. I loved making mass production city cars, and the Up was a great project inspired by city objects. I believe I bring this way of thinking with me to Ferrari.
W*: At the Museo Enzo Ferrari in Modena you currently have on display the most collectible Ferrari GTs of all time, gathered here for the 'Timeless Masterpieces' exhibition. It is a visual feast seeing early models such as the 1948 166 Inter, 1954 750 Monza, the 1960s 250 GTO and 635 GTS4, to name a few, all displayed with product designs that also represent each period.
FM: Yes, we have tried to represent the spirit of the time with displays of products which helped shape the landscape of each period. When I look around at the GT cars on display, I can't help to think how much each car was influenced by the design and social culture of their time.

W*: In 2013, Ferrari showed us its first hybrid, the limited-edition LaFerrari. Now, at the end of May, you will announce your first true hybrid-electric series production car. What can you reveal at this stage?
FM: I promise it will be really unique – the first series production Ferrari to drive on low emissions but with outstanding performance. Ferrari has always pushed the limits of automotive design and represented the pinnacle of vehicle technology. We have a constant quest to reach the ultimate step and this will never stop. Which means every new car must surpass our own expectations, and you will see this with the new hybrid car.
W*: How do you see Ferrari – a marque imbued in the exotic of the motor car, the promise of driving pleasure and performance – maintain its distinctive values in the post-combustion age?
FM: Not easily. For me Ferrari is a symbiosis of man and machine and hedonistic pleasure. If life is about the experience, then Ferrari offers an exceptional quality of life. Our identity is based on what is the most beautiful Ferrari: the next one. But then, when we talk about Ferrari, we always consider three fundamental components – technological innovation, the pleasure of driving, and beauty. So, the aspect of innovation is always fundamental to Ferrari design.

W*: Will we see a self-driving Ferrari in the future?
FM: Autonomous driving is about mobility, which is not something connected with Ferrari. If we lose the pleasure of driving, the relation between human and machine, then there is no Ferrari.
INFORMATION
For more information, visit the Ferrari website