Creative director Fabien Baron discusses his pivot towards personal projects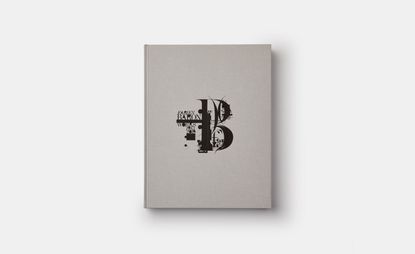 (Image credit: Phaidon)
Fabien Baron is arguably the most successful, influential and sought-after creative director working today. In a career spanning over 35 years he has shaped the visual language of the fashion and luxury industry through his design of magazines, direction of advertising campaigns and branding. He's also been a prolific product designer (including 40 fragrance bottles), produced furniture collections for the likes of Cappellini and Bernhardt, while continuously working on his own long-term personal photographic projects.

We caught up with Baron to discuss the highly anticipated publication of his first career monograph Fabien Baron: Works 1983-2019, and learn how the publication marks a significant pivot in his life and work.

Tony Chambers: What took you so long? You have produced a huge body of work and many people in your position would have published a book like this much earlier.
Fabien Baron: I've tried about three times before but really got overwhelmed by the archive and how complicated it was to put together. Maybe because I was just cataloguing the work and I didn't find that interesting – just to duplicate and reproduce the work next to each other in a chronological way. It didn't work out for me. I had an issue with the relevancy of showing the work from so many years back. This time round I took a different approach – to really try and find my mindset, my way of thinking and my way of doing things.
TC: Did that realisation and change in direction give you a sense of freedom? I see that you've mixed your commercial work with a lot of your personal work.
FB: Absolutely. My approach before was always to separate them, but then I realised that I have done all this other very personal work on the side and on my own, that has been very present in my life and that people have no idea about – people think I'm the magazine guy, the guy who designs bottles and commercials. The book is arranged in chapters that represent my philosophies that I've established over the years and the things that are recurrent throughout my career. I wanted to put something from the 1980s next to something from the 2000s and show the similarities between them – why I think this way and not another way, and why that makes me who I am.

TC: This is quite a progressive, creative and visceral way of creating a book. There are also very poetic chapter subtitles – did the words come after you'd edited the images or did the images follow the themes?
FB: A little bit together. Some of the words changed but the chapter themes came automatically. I knew exactly what should stand out and what I felt really said who I am. So it was fairly obvious what to do and how to organise it. But then some work came after all the chapters were decided, so it was a mix.

TC: It feels very intuitive.
FB: Yes – my mind works that way.

TC: There's an enormous amount of visual material and imagery over these 200 pages but I'm guessing it's actually a small proportion of the total work you've done. It must have been a tough editing job.
FB: Oh my god. It's really been a nightmare putting it together – there are so many things that I really like that I didn't put in because I didn't feel it was carrying that idea. There's less than 10 per cent of my magazine work shown and an even smaller proportion of my unpublished works such as the landscapes. Sometimes I've chosen only two pictures from a series of 500 or 700. I take pictures all the time. There are piles and piles of pictures and piles and piles of work.
TC: What was your design thinking and decision making on the format and the scale of the book?
FB: The size of the book was defined by the size of the magazines I've worked on. I didn't want any of the magazine spreads reproduced in the book to be bigger than how they appeared when originally published. That meant that the book automatically had a size.

TC: So what's the biggest magazine format you've worked on?
FB: Interview. Also, I don't find oversized books easy to deal with. They are so hard to put on the shelf, it's a nightmare for people to deal with. They're really heavy and cumbersome to open. You have the book closed on the coffee table or stacked on the shelf and you never open it again.

TC: You say you've always gone back to magazines and they give you a freedom that is different to anything else. Do you feel that magazines still have a life? Are they still relevant?
FB: Yes, I think they can still be relevant, but they have to be done in a different way. Magazines cannot deliver the service in the same way that they used to. The service part went on to websites, to the internet as it's quicker and faster. The news part is not relevant for a magazine anymore. Now it's more about opinion. For magazines to survive they need more of an opinion, more of a strong direction and point of view.

The opinion-based content needs to be really opinionated, directional and the visuals need to be even more striking. I see the future of magazines as much more specialised and opinionated and with a tight point of view that people want to get attached to because they recognise themselves or they attach themselves to a certain type of trope.

The level in which you can produce the work for a magazine is still so much higher than what you can do on a website, on Instagram or on the internet. So there's still room for that – there's room for high quality content produced at the high level and done in the manner that gives feeling and emotions and opinion to the reader. I think if magazines go in that vein there is opportunity for them. They need to take a stand. But you know as much as I do that a lot of magazines have become very weak with opinion and this is because they are driven by advertisers. So they don't really take a stand for anything.

TC: To produce so much work, I would imagine that you have a healthy sized studio assisting you. What size is the studio currently?
FB: We have an office in Paris which is five to six people and an office in New York which is about 50.
TC: How do you manage such a number and keep the work so consistent? One can clearly see your hand and your eye over all of it.
FB: Everything in my book is really things I've worked on very closely and designed myself. That was important in portraying the mindset. The approach was more a self-portrait, of what's inside my head and how I function – so it was important that the work was reflective of that and not someone else's hand, not by my assistants.

Now in terms of the way the studio functions – it took me a really long time – but I think now we're in a place where the office and the way we work is not uniquely about me but more about the company and how the company functions.

There is a lot of work I don't have to even be present for. We've arrived at a point where my office is not about me but about the office itself. It can function on its own and be its own thing. You may recognise a certain way of doing things and a certain hand but it's not automatically my hand, it's an extension of my hand. It's great because really talented people in my office are in a position where they feel extremely creative and don't feel they have to replicate my hand. They take in my mindset and expand on it with the same rigour. Now I feel that the office sometimes functions even better when I am not there.

TC: Do you think this book represents a sign and a statement of what is to come next?
FB: Yes. By putting the personal work in the book, it means that I'm going forward and I will be more present with my personal work. I am looking for a gallery and I am finally printing all my work. I have huge archives of photography and drawings and this is just a sample in this book. I'm opening my own atelier and moving forward in a more artistic way.

TC: You will consciously take your foot off the commercial side?
FB: Yes. The two mediums I really want to push forward with are my photography and film. I could do that and be very happy. Many times I've had friends who have asked me to do a gallery show of my prints and I've always been like 'no, no, no' because I have had a dilemma about showing the personal work while being at the same time a commercial artist working for a magazine — how can I pretend to be in any way artistic if I'm also a commercial artist? Now it feels more acceptable. I'm getting older and I have so much work that hasn't been shown and I want to show it. So I'm going home and making tonnes of prints.

TC: Do you see yourself doing narrative – a feature film?
FB: Definitely – it's in the works. I have been doing commercials for over 25 years – over 150 commercials for brands, so I'm really intrigued by doing a feature film as well.

TC: So this book really does represent a pivotal moment.
FB: Yes. The book is a hinge on my life, a transitional point. I am not totally separating myself from the other part of me, so perhaps you could say it's more of an elbow than a pivot!
INFORMATION
Fabien Baron: Works 1983-2019, £150, published by Phaidon. baron-baron.com