Entertaining news: Editors' picks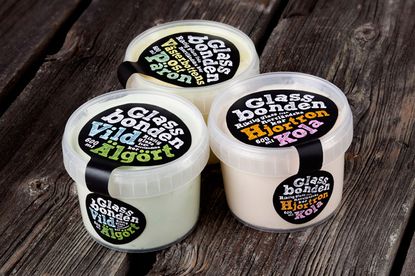 (Image credit: press)
Glassbonden
Glassbonden, is a new line of ice creams produced by a dairy farm based in Selet, Sweden. But the entrepreneurial owners are far from your average Joes of the ice cream world.
Although Glassbonden (which translates from Swedish as the ice cream farmer) make a mean vanilla and chocolate, they also combine the especially creamy milk from their mountain cows with seasonal and distinctively local ingredients such as cloudberries, Vasterbotten cheese and wild meadowsweet to make ice creams that excite the most experienced ice-cream palate.
A wider launch is planned, but for now, you can indulge in the luscious concoctions at their ice cream bar located on the farm, on the shores of the river Vindelälven. Or look out for the 600 ml ice-cream tubs with playful labels designed by art director Per Lindgren at Racer, on sale around Selet and Norrbyskar, the vacation island off the coast of Umea.
This month sees our roving lifestyle editors sample everything from 'wild meadowsweet' ice cream from a dairy farm in Northern Sweden to a new range of cooking sauces by David Chang, of New York's legendary Momofuku restaurant, and more...
Momofuku Sauces
Many diners at David Chang's legendary East Village restaurant, Momofuku, have walked away wishing they could bottle the flavour explosions they have just experienced. Renowned for his unique twist on Asian seasonings, Chang has now done just that, in conjunction with Williams Sonoma, meaning finally we can stop trying to decode his spice combinations and have a little piece of Chang magic in our own kitchen at the twist of a bottle top.
There are two 100% natural cooking sauces -- both with a base of Japanese soy sauce, aromatic sake mirin and a touch of tangy rice vinegar. Clay Pot Sauce is a sweet, tangy mix of lemongrass, star anise, cinnamon and coriander flavours designed for clay-pot cooking, braising or noodle soup. The Braising Sauce displays sweetness from pear and apple juice and heat from habanero peppers and can be used for marinating, braising and sous vide cooking. Both can be applied to chicken, beef, pork, seafood, vegetables and tofu.
$16 each, www.williams-sonoma.com
Prosciutteria King's
Prosciutteria King's began life at the hands of a pork butcher from the Veneto region in 1907, when he launched his cured hams to the wider world under the label San Michele. They have been consumed by kings (hence the present name), have inspired innovations such as the ham wicker basket in 1950 that became a sign of quality across Europe, and now are a successful leader in the production and distribution of fine Italian hams.
2011 is the year of a rebrand to reflect their reputation for innovation. Luca Nichetto, a designer from Venice was brought on board to design a new logo and to oversee the design of a set of utensils associated with ham-carving. The new logo is black and white and represents a stylised version of the now traditional wicker basket, and has found its way onto clothing and aprons for the companies retail and events staff. For the Utensils, Nichetto worked with Coltelleria Berti, the century old knife-making firm from Florence. They include a ham and boning knife, manual and machine cutting tongs, and a stand. There are two versions of each - the premium range comes presented in a handmade wooden case, and the knives feature pvd-coated matt black blades on handles which are polished and rivet-less. The standard series has knives with riveted handles, and is aimed at the professional markets.
Nespresso Pixie
If a scarcity of counter-top space has been stopping you from investing in a coffee machine, Nespresso, are offering an answer in the form of their new Pixie.
Nespresso, producers of machines for what the coffee-maker community call 'portioned coffee', have found a way to minimise the space, time and energy consumption that goes into making a single portion coffee -- Pixie is their smallest model yet, uses 40% less energy thanks to a timed power off system, it heats in just 30 seconds, and has lots of added smartness, making the process of getting a regular source of caffeine quick and smooth. If further convincing is required, it comes in a range of colours including steel blue, red, titanium, aluminium, indigo and lime.
£139, from Nespresso Boutiques, www.nespresso.com
Bocca cookbook
From Jacob Kenedy, one of the most exciting chefs cooking in London today, comes the brilliant Bocca cookbook
£30, www.boccadilupo.com
Bocca cookbook
Kenedy opened the well-loved Bocca di Lupo restaurant in 2008, serving a great edit of Italian regional foods in small plate form, his inspiration gathered on a year long journey around the country. The book is the follow up, the inevitable record of recipes, now shared with the world
Bocca cookbook
The way Kenedy writes convincingly communicates his immense passion for Italian regional food and should infect most readers -- even cookbook-flickers will get a sense of the vitality in the man and his food
Bocca
Overall the book offers fresh eyes on a well-trodden culinary path, and a particularly wicked catalogue of desserts
Receive our daily digest of inspiration, escapism and design stories from around the world direct to your inbox