BMW's new green sub-brand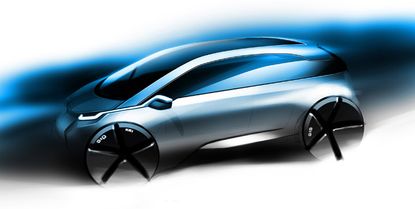 (Image credit: press)
The world is moving inexorably towards mass urbanisation. A recent UN report suggests that by 2050 over 70% of the world's population will be city dwellers. With this in mind BMW has been quietly researching the best possible mode of personal urban transport, using the internal codename Project-I.
The results of a long-term design forecast has influenced many recent concepts, most notably the MINI E, as well as the recent Vision EfficientDynamics, which hinted at some of the lightweight technological advances and design thinking that would lead to zero-emission cars. Now the marque has stepped up a gear, releasing teaser sketches of the first new car in the sub-brand, the Megacity Vehicle (MCV), shown above, as well as setting out its stall as a premium supplier of desirable small vehicles.
Right now, there's nothing to buy, so future consumers need to be content with a selection of renders. The two and four door cars shown in these images say little about what we can really expect from the MCV when production begins in 2013, but what we do know is that it will be a rear-wheel four-seater electric car that will be priced at a premium - far above the Tata Nanos of the world. It will also be BMW's first volume production car to use lightweight carbon fibre reinforced plastic (CFRP) in the structure and body panels.
BMW's Design Director, Adrian Van Hooydonk, noted that his key task with this car was to mix exciting design with a clean image. 'The car will be attractive but not controversial, and it will need to express cleanliness combined with premium and efficient dynamics,' he says. The sub-brand offers a chance to innovate as well as feature BMW's customary design quality and detailing.
The MCV is, as its name suggests, a car designed specifically for mega cities. The Project-I team, therefore, have carried out extensive international market and trend research to discover exactly what this target group needs in terms of size, loading capacity, drive concept and sustainability, as well as interior design and user interface. They discovered, for example, that customers didn't want a micro car and that they attached importance to having four seats. 'Of course the car should also show its new skills in the design, including being lightweight and safe, as well as offering the driving fun that you can have with an electric powered car,' says Van Hooydonk. 'We want to give our customers a small island of wellbeing - an island of silence - for their mobility. Therefore you will find also a totally new type of interior that gives exactly this feeling to the driver and passengers.'
Lightness was one of the essential characteristics of the MCV, in order to counter the 100kg added by the battery. Ulich Kranz, Project-I director explains that even this figure doesn't quite tell the whole story. 'Or at least it only relates to the passenger cell,' he notes. 'The additional weight of a conversion vehicle is closer to 350kg. We managed to compensate this through a combination of lightweight design measures, such as the use of mainly aluminium for the Drive module, while the Life module - the passenger cell - is largely made of carbon fibre composite. In total, we have managed to fully offset the calculated weight premium.'
Benoît Jacob, a BMW in-house designer who previously worked on the M1 sports coupe and CS coupe concepts, will head the new design team for the sub-brand. BMW refuses to reveal future models - or even a brand name - but Van Hooydonk admits it would be relatively straightforward to create derivatives based on the architecture it has established, so expect slightly more niche, upscale variants to roll out before the end of the next decade.
Ultimately, Van Hooydonk says it has been both fun and challenging creating the DNA of a sub-brand, a task that goes far beyond creating a single car. 'The complete new package, due to the electric powertrain, and the use of new materials like carbon fibre, gives us designers more freedom for creativity - the freedom to give the customers of the future totally new features and impressions,' he enthuses. 'And of course, the know-how of this project, the new ideas that we have, will also have an impact on the core brand, BMW.'