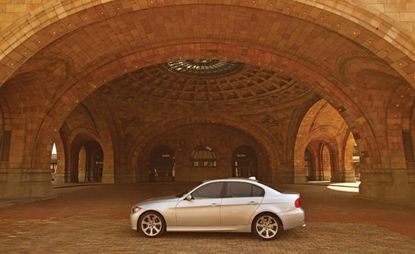 (Image credit: press)
Since the inception of the very first generation 3 Series (known by its internal designation, the E21, by aficionados) in 1975, BMW has worked industriously to build a blend of prestige and technological mastery into this formerly modest market sector. Before car companies fractured the marketplace into a myriad offshoots and spin-offs, the 3 Series sat squarely at the base of a simple hierarchy: a small saloon with the brand values of its larger, more expensive brethren.
The market for mid-size prestige has grown inexorably in the past quarter century, and while BMW itself now builds far smaller cars, the 3 Series remains the company's financial backbone, accounting for 40% of worldwide sales. When the current model was launched, it was instantly acclaimed. As a result, this mid-life overhaul doesn't exactly scream radical change. Nonetheless, with the likes of Audi and Mercedes champing at the company's heels, vying for victory in this profitable sector, BMW have opted to invest heavily in new engineering to keep them ahead of the ever-encroaching opposition.
Subtle differences and sophisticated alterations are evident on closer inspection across the range. Although the Coupe and Convertible (the later of which features a rapidly retractable hardtop, the first time the company has used this technology) have mild styling updates to heighten their sporting appeal, the most significant new developments are under the skin.
Mindful of the looming new targets for cutting emissions, BMW has poured expertise into ways of making this model as energy efficient as possible, a task that culminates in the remarkable new 320d Efficient Dynamic Saloon. While not exactly a high-end model, the 320d produces Smart-car levels of emissions, with fuel economy that trounces practically every hybrid on the market. While the company has made high-profile forays into hydrogen-power and builds hybrid variants of its more sizeable cars, the esteemed folk at the 3 Series' Zaha Hadid-designed Leipzig factory have decided to focus on refining the diesel combustion engine. As a result, the 320d smugly boasts an astonishing combined mpg of 68.9, while still kicking out 163bhp and reaching 62mph in 8 seconds. Twelve months ago, such figures would have raised cries of disbelief - perhaps even suggestions of witchcraft.
The current 3 Series range is broad in ability, if rather mixed in message. The 320d is paired with the mighty M3, still one of the best performance cars on the market. But as the car market becomes ever more littered with brands, spin-offs, sub-divisions and new innovation (including BMW's own forthcoming Megacity concepts), the 3 Series represents the apex of traditional car-making, relatively conservative in form, technologically advanced, but never in your face. For all the high-profile bluster afforded to both sport- and eco-supercars, the ongoing success of this Bavarian mainstay shows that the conventional car still has a lot to offer. Provided, that is, the detail design is up to scratch.
Receive our daily digest of inspiration, escapism and design stories from around the world direct to your inbox