'A boat is a beautiful compromise': behind the scenes at CRN Yachts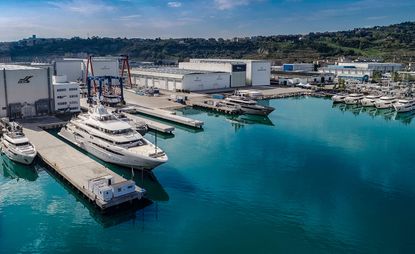 (Image credit: TBC)
Two things strike you as you walk around CRN's shipyard in Ancona, Italy. The first is that the water in this part of the Adriatic is a very particular shade of light, chalky blue, which bounces off the hull of a yacht as if by design. The second is that everything is really big.

This makes sense: after all, CRN is in the business of thinking big. Designing and building fully custom steel and aluminium yachts of up to 100 metres in length needs space – 80,000 sq m, in fact, of gargantuan warehouses and private marinas, all based in Ancona's historic harbour. Founded in 1963 in the city, CRN's dedicated fleet now numbers more than 180, along with a healthy number of aluminium and light-alloy models built for other brands under the Ferretti Group umbrella.
Having just completed its latest megayacht, CRN is building four other custom yachts simultaneously, each build bringing its own challenges and ambitious owners. Working in such a bespoke and exacting world should be a sure-fire formula for stress, especially when any new materials you develop or solutions you find probably won't be used again, but to Gabriele Piacenti, senior project architect at CRN, it's anything but. 'It's very fun,' says Gabriele, pretty persuasively. 'For an architect or designer it's probably one of the best places to work.

'Maybe you never use things again, but our yachts are one-offs. For example, we've been working with these guys at Fendi and other luxury brands, and we asked them to study some elements for decorative walls. We work directly with the craftsmen, asking for something new.
'Each detail has to be clear in our mind. We have to make in three dimensions what we draw in two dimensions, so you think in 3D, you draw in 2D, you come back to 3D. It's not so easy, but it's really fun.'

Costanza Pazzi, chief architect of CRN's design department, has just finished work on CRN's latest creation, the 79-metre steel and aluminium M/Y 135 megayacht, launched earlier this year at a lavish private ceremony attended by not only the owner and guests, but all those who worked on the yacht's creation. Working alongside Zuccon International Project on the exterior and Laura Sessa for interiors, the new ship has five decks accommodating 12 guests in five VIP cabins, plus the owner's suite and a 29-strong crew.
Even working with experts like Zuccon and Laura Sessa, and nearly 200 other accomplished professionals, getting a superyacht from a mood board to the water isn't an easy task: 'I worked closely with Laura and the [owner's] family,' Costanza explains. 'In the first meeting, they asked for a mountain chalet on the water. We used a lot of white wood, oak, a lot of wallpaper. We also used a lot of teak and all the colours that the family chose, because they each chose their own cabins. It was amazing to work with them.'

CRN is represented in every meeting a client has with its designers, because as Constanza says, 'at the end of the day, they would like something, but I have to build [the boat]. I have to explain what we can and can't do, because we're not in a building.
'Sometimes we fight, but at the end we find a compromise. For me, a boat is a beautiful compromise.'

Other concept projects in the pipeline are collaborations with some of yachting's most important designers – Alfarosso (45m, 50m and 55m) by Francesco Paszkowski, Begallta (75m) by Lobanov and She (70m) by Vallicelli. Looks like there are more beautiful compromises on the horizon.
INFORMATION