Back with bite: Lister returns with raucous LFT-C
The new LFT-C delivers the Lister name into the modern world with force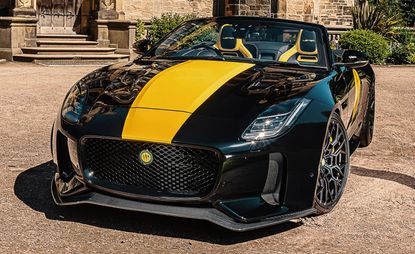 (Image credit: lister.com)
In today's age of slick, robot ridden production lines, it's difficult to imagine a time when the motor industry was run by a few oily-fingered engineers. Creating cars in post-war Britain was very much a cottage industry, synonymous with well-known names like Cooper, Chapman and Lyons. In 1954, one Brian Lister gave his name to a company that might have been less prominent, but which had no less influence on the era's racing scene.

Fast forward 65 years and Lister is back to rude health after a couple of spells in the wilderness. Now in its third era, the Cambridge-based company is owned by the Whittaker family and specialises in producing limited edition sports cars and recreations of the iconic 1950s racer, the Lister Knobbly, so called for its bulbous wheelarches. The company is also back in the road car arena with its latest model, the 666bhp LFT-C delivering the Lister name into the modern world with force.

Based on Jaguar's F-Type convertible, the LFT-C is a tweaked, twisted and wild twin of the British-made two-seater, boasting additional power and much more drama than the majority of its peers. Helping it reach 62mph from standing in just 3.2-seconds and a top speed of 205mph is an upgraded supercharger, intercooler, air filter and engine management system, which is attached to its gutsy, factory-fitted 5.0-litre V8 engine. The result is brutal performance and theatre, as the drop top sounds its way to 100mph in under seven seconds. The project was aptly named Thunder before it took its current arrangement of letters.
On the inside, Lister employed Scottish interior trimmers Bridge of Weir to design the LFT-C's bespoke Nappa Leather interior, which can be ordered in no less than 36 colours, while everything from the doors to the roof lining and steering wheel are hand stitched. Excluding the custom embroidery and new leather, the LFT-C's cabin is identical to the F-Type's in every other aspect. Even the pouncing Jaguar logo sits proudly in the middle of the steering wheel.

With regard to Ian Callum's original F-Type exterior design, Lister has made respectful alterations, most notably the deep, carbon-fibre front splitter, which sits speed-bump-crunchingly low at the front. More carbon is used for the bonnet vents, side-skirts and new rear diffuser, which houses the tips of the louder, bespoke exhaust system. Completing the package are a set of four 21-inch rims and adjustable suspension, which gives the LFT-C a menacing stance to match its hostile performance.

While 99 LFT coupes are planned for production, only 10 of its convertible siblings will be made, which makes the LFT-C a very rare car indeed. For that level of exclusivity, prices start at a hefty £139,000 before any optional extras, although cost is unlikely to be a concern for avid car collectors investing in Lister's latest creation.

As a small and specialist British car maker with a strong motorsport pedigree, the LFT-C is an outlandish, rare and collectable tribute to the small group of pioneers, inventors and cottage creators who made the British car industry what it is today. With each Lister made at the company's headquarters in Cambridge, the LFT-C is a reassuring reminder that the eccentricity behind Britain's car industry is still alive and well.
INFORMATION
Lister LFT-C, from £139,000. lister.com