Audi Urban Future Award 2010: winner announced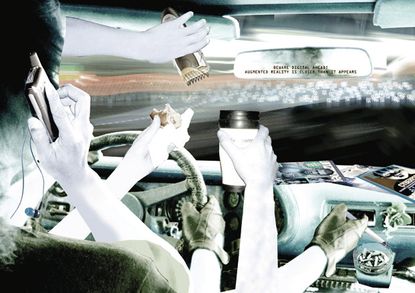 (Image credit: press)
In a 600-year-old ex-religious institution in Venice, complete with frescoes on the wall, Audi recently announced at the city's Architecture Biennale that German architect Jürgen Mayer has won its €100,000 Urban Future Award.
Aware that most of the world's population will be living in cities by 2030, Audi is anxious to know what these urban environments will be like, how people will get around and what sort of cars it should be making for BRIC country commuters in particular.
Mayer's (opens in new tab) theory, in which the digital, virtual and real worlds have merged into one, suggests cars will run on electricity taken from a smart-grid, come with integrated augmented reality software and the flow of traffic will be automated. Rapid-prototyped models and his trademark futuristic renderings were used to present his ideas in an exhibition in the crumbling Scuola Grande della Misericordia.
Detractors saw it as too sci-fi, representing the year 3000 rather than 2030 (indeed its high tech, digital focus was at odds with the rest of the Biennale's nostalgic feel). But Mayer added: 'I'm really happy to win, and I feel that Audi understands what my work is about, that technology is the tool for opening up endless urban possibilities.'
Runners up were Alison Brooks Architects from London, BIG - Barker Ingles Group from Copenhagen, Cloud 9 from Barcelona and Standard Architecture, Beijing.
Emma O'Kelly is a contributing editor at Wallpaper*. She joined the magazine on issue 4 as news editor and since since then has worked in full and part time roles across many editorial departments. She is a freelance journalist based in London and works for a range of titles from Condé Nast Traveller to The Telegraph. She is currently working on a book about Scandinavian sauna culture and is renovating a mid century house in the Italian Lakes.