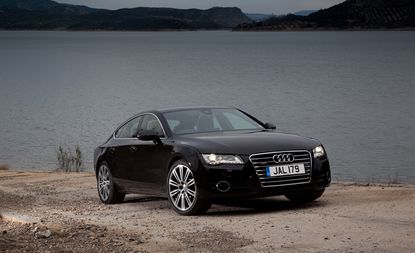 (Image credit: Audi )
It probably isn't (ever) Audi's intention to evoke the long-held dream of the driverless car. But with the new A7 Sportback, that ever-looming technological deadline seems not just a little bit closer, but also an entirely laudable aim. For the A7 induces all sorts of complex emotions in the driver, making one flip back and forth between awe, admiration and the churlish feeling that having to drive oneself is frankly rather old hat.
Let's start with the awe. The A7 is a handsome car. We'd go as far as to say that it's possibly the best-looking car to come out of modern day Ingolstadt, with the R8, A5 and A5 Sportback (the A7's little sister) close runners-up. Ostensibly created to take a chunk of the burgeoning big 'coupe' market (against cars like Mercedes' CLS and BMW's 5 Series GT), the A7 is really a fastback, four-door saloon that does away with the boot in favour of a swooping rear screen, hatchback and notched tail.
The design team draws explicit parallels between the A7 and the C1 era 100 Coupe from 1970, a two-door fastback with far better lines than most contemporary Italian exotica. Audi isn't in the sub-contracting business, so the A7, like its 41-year old forebear, was styled in house by a team overseen by Stefan Sielaff. Why does it work so well? Something about the proportions, certainly, but also the way in which the crispness of the bodywork and the hard-edges recall 1970s-era car design, about as far removed from the slippery jelly mould shapes pioneered by Audi with the C3 era 100 model back in 1982.
There is also much to admire from behind the wheel, as always. Audi must be dreading the day when rivals finally surpass its legendary interior quality, in terms of look, feel and function. Right now Mercedes are snapping at their rival's heels but the A7 wins for so deliberately eschewing the faint hints of swirling baroque that still creep into BMW and MB dashboards. Innovations like the touch-sensitive pad for inputting information probably become more intuitive with time, but for general ease of use and restful design, the A7 is simply a nice place to sit.
We drove the 3.0 litre diesel, probably one of the best engines on the planet right now in the way it mixes power and economy. Swift progress is accompanied by a space-age whooshing sound and the car zips onwards with scarcely a hint of the bulk it has to shift. Steering and suspension can be stiffened up to suit your personal taste - on 'comfort' settings there was a fair bit of body sway through the curves but in all honesty the A7's performance is more than adequate for everyone. That won't stop Audi from building incrementally swifter versions of the car, possibly culminating in a 'RS' variant at some stage next year.
And this is where our reservations come in. Taking the A7 on a rapid cross country trip that mixed winding country roads with long expanses of motorway served to highlight how the bulk of high mileage travel is done on straight roads with minimal driver input. Like many modern cars, the A7 comes with adaptive cruise control (ACC), that stealthy first step towards the autonomous car. Audi's ACC lets you lock on to the car in front and follow at a pre-set distance, breaking and accelerating automatically. It's also linked in to the Sat Nav, which theoretically means the system knows if the lead car is braking and changing lane to leave a motorway at an approaching exit and not slow down as a result.
Legislation is still the big hurdle to cars that can actually steer themselves. We predict a complex future of legal waivers and new types of car insurance that'll allow a brave - and wealthy - band of pioneers to set off in the first generation of autonomous automobiles. Some distant successor of the A7 will be designed as a dual mode machine, able to deliver driver entertainment in short concentrated bursts on those rare times when 'sport' mode can be engaged and conditions allow. But once one has accelerated up the slip road and joined the masses on a motorway, automation will take over. After all, it seems almost criminal to deny the driver the chance to sit back, enjoy a back-rub from the in-built massage systems in the chairs, listen to the Bang & Olufsen sound system and surf the web thanks to Audi's burgeoning relationship with Google. The tech-heavy executive car - even one as elegant as this - will ultimately do the driver out of a job. Perhaps that's not such a bad thing after all.
Jonathan Bell has written for Wallpaper* magazine since 1999, covering everything from architecture and transport design to books, tech and graphic design. He is now the magazine's Transport and Technology Editor. Jonathan has written and edited 15 books, including Concept Car Design, 21st Century House, and The New Modern House. He is also the host of Wallpaper's first podcast.