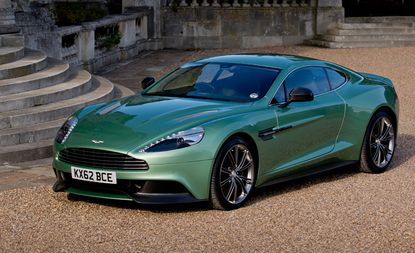 (Image credit: press)
The Aston Martin Vanquish (opens in new tab) roars into the British car-makers top spot, a new flagship heralding a raft of weight-saving and performance-enhancing tweaks, all wrapped up in a svelte, muscular body, mostly formed from ultra-light carbon fibre.

Underneath all this is Aston's trusty VH platform, refined and enhanced once again yet still discernable through the Vanquish's familiar silhouette. Although the detail design is substantially different - with more creases, folds and curves - that unbeatable silhouette remains fresh and attractive.

The Vanquish also marks a slight ideological shift in the Aston Martin ethos, underpinned by some very sound thinking. In short, rather than go all-out and join the technological arms race being conducted in this rarefied section of the car market - by McLaren, Ferrari, Lamborghini, AMG (opens in new tab), etc. - Aston have stepped back and focused on the things that really matter in day to day use.

Correctly surmising that 200mph+ top speeds are worth only bragging rights on the track (let alone the Shenhai Expressway or the Sheikh Zayed Road), the Warwickshire-based company has wisely stressed that the Vanquish is a GT car first and foremost, a sumptuous mode of transport designed for refinement, created by craftsman and driven by those in the know, not those with something to prove.

That's not to say the Vanquish lacks power - far from it - but the emphasis is on discrete ability, not in your face domination. In refining the VH platform, Aston Martin has focused on several key areas, most notably space. The Vanquish is no larger than its siblings but, once inside, you'll find ample room to swing your elbows, a boot that has somehow ballooned by 60% over the outgoing DBS and a dashboard that doesn't loom quite so much over the cockpit experience.

All this is cloaked in the kind of ambience that only Aston Martin can build, with leather upholstery so soft that the generous seats are best described as 'buttery' and clichés can be damned. In fact, so much of the Vanquish's character can be summed up by restoring to hoary old motoring clichés that it takes some effort to navigate around the familiar language of automotive approbation and steer a different path.

As with all Aston Martins, the physical presence of the Vanquish - a name first used on the brutally handsome model from the turn of the century - is shorthand for a certain kind of connoisseurship, an appreciation and understanding that goes beyond such top trump vulgarities as 0-60 times and maximum speed.

And then you come to drive it. Fire up the V12 - a venerable power plant by now, but still going strong and today more efficient than ever - and you get a raucous initial 'blip' before the 12 cylinders settle down into a raspy tick over. Once any nearby bolted horses have been recaptured, you're free to edge the long nose out into the traffic.

One of the car's few genuine idiosyncrasies is the quirky steering wheel from the One-77 (although it's an option), a defiantly quartic-shaped object that never felt truly right in our hands. What's far more welcome is the addition of sport and damping mode buttons to the wheel itself, putting these more driver-focused functions right at your fingertips.

Tweak the settings en route as conditions demand - a sharper throttle, more focused steering and a stiff, poised ride are your rewards. On all but the most rutted of roads, the Vanquish is soothing and refined, the steering reacting to every minute movement of the wheel. You think your way around corners, with instant acceleration making overtaking a safe and addictive proposition.

There's a rich vein of tradition that runs through the Vanquish; something about its innate character that seems very British and thoroughbred. Aston Martin chose to launch the car in the UK, no doubt helping planeloads of foreign journalists shape a very traditional image of the country through a lunch event at Newmarket's ancient jockey club and a night spent in Anton Bilton's immaculate Soane-via-Lutyens country pile in Buckinghamshire. But it would be a mistake to write the company off as some kind of nostalgia-loving anachronism.

Contemporary luxury goods are more than branding and heritage; they're about innovation and evolution. Aston Martin has spent nearly a decade building itself into the quintessential luxury manufacturer, a company of broad skills but tight focus. The Vanquish packages these qualities into something that transcends mere transportation, yet which was also born to excel on the road.
Jonathan Bell has written for Wallpaper* magazine since 1999, covering everything from architecture and transport design to books, tech and graphic design. He is now the magazine's Transport and Technology Editor. Jonathan has written and edited 15 books, including Concept Car Design, 21st Century House, and The New Modern House. He is also the host of Wallpaper's first podcast.