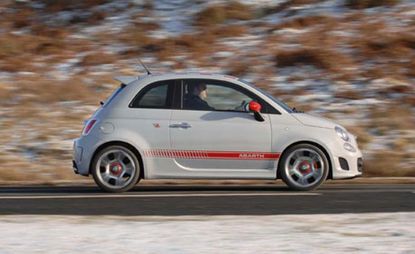 (Image credit: press)
Abarth (opens in new tab) is the latest automotive brand to be revived. After an evenful and near-fatal career racing motorbikes and cars, Carlo Abarth was instrumental in the founding of the influential but short-lived sports car manufacturer Cisitalia before he established the company that bears his name in Turin in 1949. As well as building bespoke sports cars from Fiat components, Abarth was also a pioneer in the tuning business. By taking stock Fiat products - most famously the Fiat 500 of 1958 - fresh from the Torino production lines, Abarth added more power and tweaked the handling, creating a sporting icon along the way.
See more images of the Abarth 500, including how our W* editor got on test driving the new mobile (opens in new tab)
Abarth was actually born in Austria, changing his name from Karl and taking Italian citizenship in order to better exemplify the fabled character of the racing engineer, a key player in the country's automotive mythology. It helped that his cars were objects of functional brilliance, but a canny eye for marketing and image (like the brand's trademark scorpion logo) did much to keep the company in the public eye. Abarth was eventually taken over entirely by Fiat, who retained the moniker for a series of fast but flimsy sporting models before it eventually fizzled out during the company's long spell in the financial wilderness.
Now Abarth is back, resurrected as a new performance brand in a marketplace flush once more with racy small cars. Fiat is taking care to refer to Abarth as a standalone company - there are no Fiat badges to be found on these machines - and the parent company even goes so far as to describe the sub-brand as the 'House of Abarth,' as if it was some kind of haute couture establishment. Abarth has also taken a leaf from MINI's book, offering a practically limitless set of customisation options, most of which take the form of bits of trim, bodywork decals and colour combinations. The end results are rarely subdued, presumably pitched at those who like to flaunt their sporting aspirations (although every Abarth can of course be ordered in a totally de-badged state).
So is the 21st century Abarth worthy of the name, or is it simply yet another self-conscious sub-brand looking to seduce a few more customers? Having sampled both the Grande Punto Abarth SS and the flagship Abarth 500, the answer appears to be a bit of both. The Grande Punto is the more pedestrian of the pair, not quite able to shake off its competent but bland supermini origins. This is still a handsome car, one of the least pretentiously styled in the market, but the addition of boy racer bling - as evinced by the large button on the dashboard marked 'sport boost' - doesn't do it any favours.
The Abarth 500 is a more serious proposition, a car that makes a direct emotional link to Carlo's 1958 original. In an age when ultra-high performance is incredibly commonplace, the raw figures for the Abarth 500 aren't too earth-shaking - 7.9 seconds to 62mph from the 135bhp 1.4 litre engine. But fast small cars aren't about statistics, they're about driving sensation - the driver of a sporting compact isn't going to feel too emasculated by scale.
Shorn of the need to win drag races or set lap records, Abarth's engineers have been able to devote their focus to making the little 500 handle sweetly in the twists and turns. These abilities were ably demonstrated at a modest hillclimb in Wiltshire, Gurston Down, a former farm track that was tarmaced over in the 1960s and now provides weekend thrill-seekers with fifty odd seconds of rapid, twisting ascent. Thanks to a clever system of computer-controlled wheel braking, the little 500 corners like a demon - it's certainly reassuring to plunge into a tight hairpin and feel the car faithfully follow the direction of the steering wheel.
The tongue-twisting esseesse upgrade - an aftermarket kit that comes in an ersatz shipping crate (apparently some enthusiastic customers have converted this into a coffee table) - ups the power output and further stiffens the chassis. Given the stock car's rumble and roar on the open road we suggest this isn't entirely necessary, unless you're deadly serious about taking this car on the track.
We hope this is only the beginning for Abarth, for it's a name that has almost limitless potential in small-car crazed Europe, and both the Grande Punto and 500 models are a solid basis on which to build. What Abarth really needs to set itself apart from the supermini set is its own bespoke model, something unique in both form and function.
Back in 2007, Bertone, a coachbuilder with a long association with Abarth, presented their take on a new Fiat Barchetta, an open two seater that was reportedly touted to Fiat as a possible stand-alone Abarth product. Alas, the company didn't take the bait. But as one of the few European manufacturers with any financial clout - thanks to their modern range of market-pleasing economical and efficient small cars - our fingers are crossed for the arrival of a new pocket performance masterpiece.
Jonathan Bell has written for Wallpaper* magazine since 1999, covering everything from architecture and transport design to books, tech and graphic design. He is now the magazine's Transport and Technology Editor. Jonathan has written and edited 15 books, including Concept Car Design, 21st Century House, and The New Modern House. He is also the host of Wallpaper's first podcast.