Watch brands celebrate the first timepieces in outer space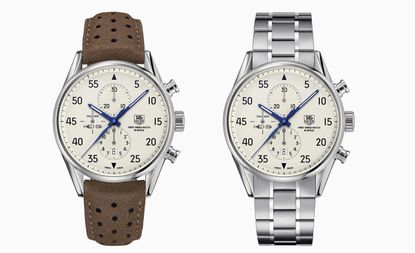 (Image credit: Press)
It may feel as though it is a subject that sits more comfortably in Sixties comic books or Seventies TV shows but this year the Space Race is back. The USSR's Yuri Gagarin's (opens in new tab) triumph as the first man to orbit the earth in April 1961 and subsequent US explorations a year later sparked a parallel mission - the fight to put a named watch on an astronaut's wrist. That spat has flared up once again this year as the three key watch brands associated with the Space Race - Breitling (opens in new tab), TAG-Heuer (opens in new tab) and Omega (opens in new tab) - release celebratory watches marking their watches as space 'firsts'.

Of course, none could claim to beat Gagarin's Russian-made Sturmanskije chronograph as the first watch in space. But as with any explorer, it highlighted the need for an astronaut to be able to measure time. Hence, brands were keen to be the next to get their watches into orbit.

It was only in 2006, after a watch fan spotted a watch in a museum, that it came to light that John Glenn - the first American to orbit the Earth - wore his own Heuer stopwatch (which he strapped over his space suit with big, makeshift elastic bands) on the US Friendship 7 Flight in February 1962. This, according to the brand, makes Heuer 'the first Swiss watch worn by man in space'.
Just two months later, in May 1962, American Scott Carpenter orbited the Earth three times on the US Aurora 7 mission with a Breitling Navitimer (opens in new tab) pilot's watch strapped to the sleeve of his fabulous silver suit. With its scale system allowing the wearer to determine day from night, it became the 'first spacegoing wrist chronograph' and was renamed the Navitimer Cosmonaute.

In October that year, Wally Schirra, on the Mercury Atlas 8 US mission, wore an Omega Speedmaster (opens in new tab) that he had bought for himself from a Houston jeweller. This year the brand celebrates the 'first Omega in space' with a handsome re-issue.

Whether they needed to flag up that somewhat tenuous link is a moot point, considering that, just three years later, the Omega Speedmaster would beat all the top watch brands of the era to secure full Nasa approval as its rigorously tested watch of choice for US space exploration. Especially as it was during the famed Apollo 13 mission in 1970 that Buzz Aldrin, Michael Collins and Neil Armstrong, faced with massive technical failure, turned to their Omega Spacemasters to manually maneuver their spacecraft safe back down to Earth.