Viennese heritage brand Ludwig Reiter is safeguarding the traditional welted shoe for generations to come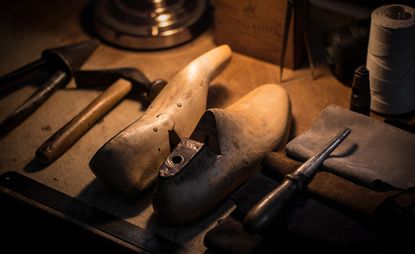 (Image credit: Ludwig Reiter)
There is no shortage of heritage shoe brands that rest on of their hand made, artisanal laurels. But very few are still family-owned, run and producing shoes in their native city, just as their great grandfather did some 131 years prior.

Austrian Till Reiter, great grandson of cobbler Ludwig Reiter is doing just that within a converted 16th century manor, just 20 minutes from Vienna. What was once an aristocratic country residence, later had a turn as a working farm and then most recently a school, before the Reiter's came across it in a dilapidated state after having outgrown their own Vienna industrial estate.

Purchased in 2008, the Renaissance manor is a national heritage site, spread across 30,000 square metres of farmland, with 5,000 of factory space. Here, under the plastered arches and cast iron pillars of the Süßenbrunn estate's former stables, 70 employees produce around 30,000 pairs of shoes annually, averaging out at 100 a day.

The property's former coach house now multitasks as the luxury brand's showroom, design offices and shipping department, while the main house is currently undergoing refurbishment, destined to regain its former glory as an experiential shop. 'It's a space for the King, and the King is the customer,' says Reiter, leading the estate tour with daughter Magdalena in tow. 'So we are the managers in here,' he says motioning towards the charmingly restored, albeit pared-back coach house.

It's an approach to business that has seen Reiter weather Europe's longstanding economic pressures to move production offshore, with Ludwig Reiter now standing solo as the lone producer of welted shoes in Austria. 'I could not imagine sitting in an airport to go to Hong Kong every week,' he smiles, adding, 'My belief was that sooner than later they would all came back,' he says referring to the luxury good industry's recent 'Made in Italy' campaign.

In 2000 the shoe brand also acquired the renowned leather goods business of Franz Schulz (who has outfitted each Austrian president upon taking office), along with his flagship store on Vienna's Führichgasse, also integrating his hand sewn cases and bags into the Reiter repertoire.

The Süßenbrunn workshop itself still utilises the Goodyear method, first embraced by Reiter's grandfather when he spent time working in American at the turn of the 20th century. There Ludwig Reiter II witnessed the Goodyear technique for welted shoes and brought the time saving machines back to Europe.

A Goodyear machine dating back to 1910 is still in good enough nick to get pulled back into service if need be, Reiter explains proudly. Today an artisan demonstrates the same welting process, which has not changed in a century: a strip of leather (the welt) is sewn around the bottom of the upper and insole, and that same welt is then sewn onto the sole. 'With leather you only have one try,' he says as another rather antique machine's needle attaches the welt. Each pair of shoes goes through 200 - 300 individual production steps, including the final outsole shaping, which is still finished by hand.

We walk past a bespoke order of eight pairs of maroon brogues, the uppers awaiting an introduction to their sole mates. Ludwig Reiter is one of very few companies who can create a shoe to your specifications, with your choice of last for a price increase of a mere 10-15%, within a turnaround of a couple of weeks. This is the prestige of having their own factories and dedicated workforce.

Within its retail network of 20 stores around the globe, Ludwig Reiter's best seller may still be a classic black Derby, but their lambskin snow boots are finding favour with the après alpine set, while you would be hard pressed to find a finer, more elegant or comfortable Chelsea boot – the whole point of this sole is that it perfectly moulds to the incline of your foot for an optimal fit. Brad Pitt was such a fan of his Husaren boots that they became an integral part of his Lt. Aldo Raine character in Inglourious Basterds.

'The future of tradition' is this brand's vision statement and it perfectly sums up its authenticity; catering to those seeking shoes that have been expertly guided by the hands of history.
INFORMATION
For more information, visit the Ludwig Reiter website (opens in new tab)
ADDRESS
6 Brook Street
W1S 1BB London