Puff pieces: we're warming towards Ukrainian outerwear label Ienki Ienki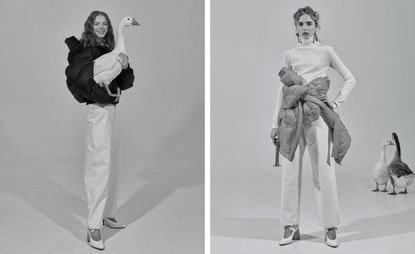 (Image credit: TBC)
The popularity of post-Soviet fashion is showing no signs of slowing down on the catwalks. Take streetwear supremo Gosha Rubchinskiy, who has shown his last two menswear shows in his home country of Russia, the burgeoning popularity of Balenciaga, under the creative directorship of the Georgia-born Vetements founder Demna Gvasalia, or the rise in critical acclaim of designers presenting seasonally at Mercedes-Benz Kiev Fashion Days (opens in new tab).

Dmitriy Ievenko is a man well-versed in the attraction of the Eastern aesthetic. The founder of the Ukrainian concept store Ashtik, Ievenko has focused on bolstering fashion brands coming through his home country. Now he has taken his dedication one step further with the launch of Ienki Ienki – an outerwear brand specialising in 100 per cent goose down padded jackets, and produced in the Ukraine. 'The country is one of the most important producers of high quality goose down, which is perfect for jackets, due to its incredible lightweight and warmth,' Ievenko says.

It was scrolling through social media feeds that inspired Ievenko's new retail venture. 'I realised that there was a plethora of poor quality pieces out there, which people wear once to take an Instagram picture. I wanted to introduce a new quality product, which would be of highest quality, but also eye-catching.'

Seventy global stores have set their sights on Ienki Ienki's debut collection. The A/W 2017 launch comprises five different outerwear styles, from the Michelin, featuring a padded silhouette that can be emphasised with a cinching waist belt, to the versatile Dunlop, which flares at the top or bottom dependant on how it is buttoned. Ievenko has employed a prismatic colour palette for the collection's launch. Its styles are envisaged in sugary lilac, post-box red, and turquoise. 'I couldn't be more excited to introduce Ienki Ienki to Browns this season. I'm obsessed with their incredible rainbow colour palette and exaggerated size,' says Jennifer Bishop, womenswear buyer at the renowned London-based boutique.

Humorously, it was the plump tyre-like body of the Michelin man which acted as the aesthetic starting point of the collection. 'We started with his jumpsuit, and worked on simplifying the silhouette to make it wearable every day. You'll attract the same enthusiastic eyes whether you're on the ski slopes or at fashion week,' Ievenko says. We're (goose) down with that.
INFORMATION
For more information, visit the Browns website (opens in new tab)