New kids on the bloc: spotlight on Kiev Fashion Days A/W 2017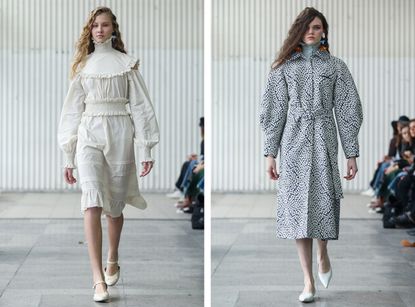 (Image credit: press)
In freezing temperatures of -8°C to -14°C, the A/W 2017 fashion weeks got underway with Mercedes-Benz Kiev Fashion Days. With fashion currently enthralled with 1980s and 90s post-Soviet style, the gaze is on a generation of designers who are building businesses and brands in Russia and in the former USSR states, including Ukraine and Georgia.

Only a few days before the event, the persistent conflict between Russian and Ukrainian forces in eastern Ukraine flared up again. And while Kiev's creative community is tense, it's determined to show off its best work.

'The conflict is happening. But fashion is a business that contributes to the economy and we cannot and do not want to stop. Designers are paying salaries. This is an industry about beautiful girls and beautiful clothes. When the war was at its peak in 2014, we did cancel fashion week but not now – we need to show the good part of Ukraine. It's a question of raising the economy of the region,' says Daria Shapovalova, the founder of the event (established in 2009) and who via the Parisian sales and PR platform More Dash has helped put Ukrainian designers on the fashion map. The pioneering 29-year-old recently featured in the arts category o Forbes' 30 under 30 Europe.
What is remarkable about these designers is their relative youth, talent, determination and clear vision. Former model-turned-designer Anna Karenina is 21 and runs her own Anna K label, that speaks to a young generation of savvy, feminist woman who love her witty t-shirts (a hit at Colette) and techno/girly dresses. Staging her collection at the newly opened TsUM department store, she sent out smock-detailed pink taffeta dresses, pretty flock velvet outsize tunics and walked the catwalk herself wearing a t-shirt reading 'Don't Love Me Do'.

Anna October started out aged 20. The collection titled 'No Knowledge, No Fear' reflects the ethos of the 26-year-old designer, who trained in pattern cutting and fine arts. Her forte is pretty, feminine clothes, in subtle colourways with beautiful detailing including smocking and braiding. 'I want to make something useful that women feel happy in,' says October. In the atmospheric surroundings of a disused Soviet-era department store, models paraded cold shoulder silk dresses, lumberjack check blouses and mom jeans infused with a joie de vivre and sense of cool.
The light elegant touch is also to be found at FLOW The Label, founded by Viktoriia Balaniuk and Veronika Vez, who showed retro-tinged, strong shouldered glen-check jackets and wispy high-necked silk crepe dresses influenced by 70s French films.

One to watch is Chakshyn, headed by the 22-year-old designers Dima Chayun and Anton Yakshyn. They looked at robotics and the botanical world in their patchwork knit dresses and charming cherry blossom print puffa jackets.
The standout of the week was Litkovskaya. Its thirtysomething designer, Lilia Litkovskaya, took over the atmospheric basketball hall of a Soviet-era physical education university, the walls lined with portraits of Ukrainian Olympiads. She has a strong, empowered vision of woman and is a wizard at cutting. There were sculpted reversible puffa bomber jackets with couture embroideries, leather shirts inspired by historical fencing clothing worn by medieval knights and swishing shirt dresses boasting fluttering embroidered silk chiffon skirts. Both the athletic beauties that modelled and the rave anthem soundtrack were powerful reminders of the confidence and beauty great design can give you, wherever you are in the world.
INFORMATION
For more information, visit the Mercedes-Benz Kiev Fashion Days website (opens in new tab)