Why seersucker is integral to Thom Browne's design DNA
The brand's 'Seersucker season' S/S 2020 offering celebrates the preppy puckered fabric, which first attracted its founder in his youth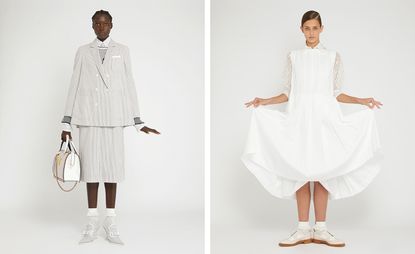 (Image credit: TBC)
Thom Browne is usually spotted sporting a slate grey suit of his own design, favouring in warmer months, a knee-length short style that reflects his obsession with preppy Ivy League dress codes. As a child, the first summer suit which Browne's mother bought him was cut in lightweight seersucker cotton. 'It was always part of my life…summer life…' Browne explains, of the striped puckered fabric, first used in men's suiting in 1909 by tailor Joseph Haspel in New Orleans, which today riffs on rumpled elegance and is essential to the designer's take on American prep.

For Browne's S/S 2020 women's show, the designer was keen to immerse guests in his favourite fabric, creating a garden of Versailles-like show set in Paris, created entirely in grey and white stripe seersucker fabric. Seersucker roses grew from the ground and tongue-in-cheek urinating cherub statues were also swathed in the crumpled fabric. Browne bought his Wasp-y world to 18th century silhouettes, pairing saccharine seersucker suiting with architectural panniers, sported by models in towering Pompadour wigs and twizzling straw boater hats on sticks.

'This is the uniform for everyone's summer wardrobe,' adds Browne. For men, short suits were imagined in an array of vibrant striped hues, from candyfloss pink to cornflower. The beauty of the fabric lies in its everyday ease. It's infinitely elegant, yet gains even more aesthetic beauty as the fabric develops another time-worn wrinkle. Browne's silhouettes will withstand a gamut of garden parties, and they're best sported when lounging in a deck chair, sipping a strong cocktail and staring at a bed of roses, be they from the designer's Versailles-inspired landscape, or in their natural state.
RELATED STORY
INFORMATION
thombrowne.com (opens in new tab)