Thom Browne at Paris Fashion Week Women's S/S 2019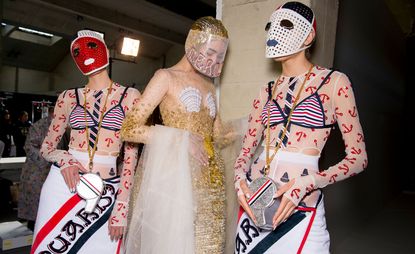 (Image credit: Jason Lloyd-Evans)
Mood board: It's still only September but the chilly, unstable weather we have been experiencing in the French capital during Paris Fashion Week has got more than one person dreaming about the beach already. As it turns out, so is Thom Browne. Then again, the American designer is often inspired by the vibrant coastal landscape and marine life in his collections. This time, he presented his S/S 2019 outing against a show set featuring a pastel-coloured paper palm trees and striped beach sheds reminiscent of the island of Nantucket, populated by a fairy tale-like cast of characters clad in variations of his classic XS suit including feathered seagulls, sequined fish and embroidered seashells.
Best in show: This was the perfect backdrop for a collection that explored the culture of the prepster set during the summer season. Reminders of Browne's fondness for marine life (the sort of cartoonish silhouettes of whales, crabs and lobsters that populate his suit jackets and accessories were everywhere, including the tights) coexisted with colourful gingham suits, coats made out of printed plastic picnic tablecloths and fruity motifs. Not that it was all happy-go-lucky and sweet: Browne's very particular brand of BDSM-inspired perversity was omnipresent, from the way he made his models advance at a snail's pace wearing fetish heels, to the fishermen net-like bondage suits. Most of the models' faces were also hidden behind ominous masks – that they were holding with their mouths! -– making for an extraordinarily unsettling show experience. But then again, that's where the designer thrives.
Finishing touches: Accessories, on the other hand, were, quite simply, all about cuteness. A tiny chained doctor bag decorated with an anchor opened the show, and led the way for an assembly of new pieces including a naïf gingham bucket bag much like a kid's beach bucket, mini picnic baskets and hats in the shape of cherries, bananas and watermelons.