Thom Browne A/W 2019 Paris Fashion Week Women's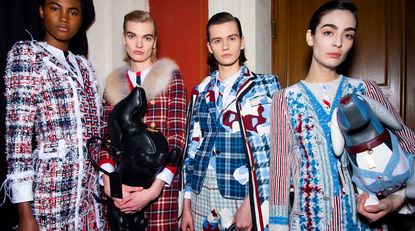 (Image credit: Jason Lloyd-Evans)
Moodboard: Ten years ago, in January 2009, Thom Browne staged a performance at Pitti Uomo in which hordes of female models dressed as clones of the designer himself, undersized grey flannel suits and all, sat at identical desks, behaving like your average Joe would at the office, only at a far more glacial pace. The show became instantly embedded into the fashion audience's collective consciousness and, ever since, Browne has been known for his often cryptic, sometimes humorous, always slow-themed shows. And, ten years after that first Florentine show, the cycle has come full circle. On Sunday, guests arrived at the Beaux Arts on Paris' Rive Gauche to find a rectangular glass structure containing an office, with several desks, coat hangers, table lamps and old-fashioned typewriters. Nothing could feel more inherently Thom Browne.

Best in show: The same applied to the clothes: the show opened, as it usually does, with a group of models dressed identically, this time in trademark tightly-proportioned grey suits with short trousers, complete with beige mini macs. Making their way to a workspace they started methodically typing away as the rest of the show went by, to the sounds of Ryuichi Sakamoto's Merry Christmas, Mr Lawrence. One thing was clear: this season was the antithesis of the last one, physically and metaphorically: beach holidays had been swapped for everyday humdrumness, yes, but torturous high heels, masks and bondage-inspired gowns had also given way to ultra comfortable loafers, clicking away as models advanced, and simple pleated trousers. The couture-like quality of Browne's feminine clothes was of course still there, but this time it felt more subtle, reaching its technical climax with a golden coat in which astrakhan gave way to embroidery almost imperceptibly. As for the rest, it was, as the French would say, 'un retour aux sources'.

Team Work: One of the objects present on every single desk on set was particularly intriguing: it was a photo-sized replica (the kind parents keep of their kids at the office) of Una Troubridge's portrait by Romaine Brooks. Hailed as a sort of family member, the monocled figure acted as the main inspiration for the collection. Models were styled after her, their hair so masculine-like you would have been forgiven for temporarily forgetting you were at a womenswear show. It was this sort of garçonne-spirited androgyny that first caught the attention of the industry at the very first Thom Browne show. On Sunday, it did again.