The Pitti parade: all the highlights from the Florentine trade show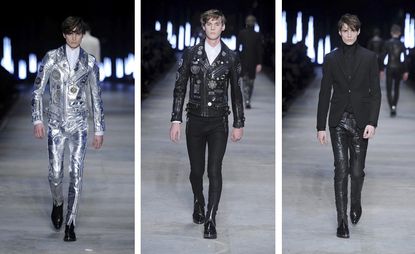 (Image credit: TBC)
In the past decade, the exponential growth in the phenomenon of men's 'fashion' (as opposed to clothing) has driven the Pitti Immagine trade show in Florence (opens in new tab) to new heights of 21st century dandyism, in a liberation of many dusty preconceptions of how men should dress.

Concurrently, that same wave has given birth to the British Fashion Council's three day men's showcase, which in a rare overlap has seen us hit the ground running for 2014 in a whirlwind of shows and presentations saturated with vibrant themes, as designers make their case for a shaggy, shiny winter ahead. In Pitti, guest designers Diesel Black Gold and Barbara Casasola took centre stage amongst the plethora of heritage brands, denim juggernauts and boutique menswear labels showing in the Tuscan capital.

Diesel Black Gold kicked off Pitti Uomo as guest men's designer of the trade show's 85th edition, transforming the Stazione Leopolda with a LED light show by Parisian scenographer Thierry Dreyfus (opens in new tab). Ex-Phi designer Andreas Melbostad made a rock star debut for his first-ever men's collection, with studded and silvered looks shorn of any excess baggage (save a parka or two) to create skinny, plasticised silhouettes suggesting an electrified futurism. As Diesel's premium line, and the only one not beneath creative director Nicola Formichetti's youthful umbrella, Black Gold stands aside from the #REBOOT digital revolution of the brand, however packs its own punch nevertheless.

In a stark contrast, the Brazilian designer Barbara Casasola (opens in new tab)'s prefall presentation was the essence of subtlety – her revolving still life and ambient film screening leaving guests wanting more from her block-coloured tailoring and feminine allure. But what it lacked in vitriol was regained in a layered thought process: from the choice of the disheveled Palazzo Portinari Salviati (opens in new tab) (the mythical setting of the love affair between Dante & Beatrice), to the handbag showcase inspired by Lygia Clark sculptures and vintage telephones through which one could hear the films.

With the coltish model and musician Jamie Bochert onscreen and a cast of femmes fatales wandering the Palazzo in grey, navy and violet pantsuits and lipstick pink silks, Casasola struck an enticing balance between Pitti's menswear heritage and the girly cocktail frocks she has made her signature.

Other highlights included a menswear debut by Alessandro Dell'Acqua for his fledgling label N°21, just weeks before he shows his first Rochas collection in Paris. Dell'Acqua placed boys on an elevated platform in the elegant city library, inviting guests to mingle around the reading desks to view his daywear separates that fused the uptown, varsity feel of polished plaids and striped wools with the feminine touch of lace and satin 'toile de jouy', featuring a print of galloping stallions.

The horses reappeared in a multimedia showcase in the library's entrance, with vitrines housing 3D printed glass sculptures and video screens labelled with bold keywords like 'powerful' and 'ironic', which added a convincing subtext to the otherwise simplistic story of contemporary, urban fashion.

Erring towards historical parody was the Italo-Haitian designer Stella Jean (opens in new tab)'s men's collection 'Gentleman's Club', in which she mixed her signature African wax print cottons (reminiscent of the Indonesian batik technique) with Glen plaids and velvet quilting. Although a sunny change from the sea of warm winter greys, we'll undoubtedly face elsewhere, her garish colour palette was hard to stomach when cut as a 3-piece Victorian suit, yet made a standout case for that rare Pitti peacock – a man unafraid to ruffle a few feathers.