The Brothers Bray: Chris Bray tells all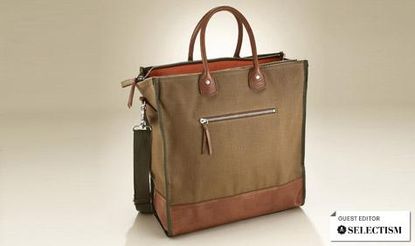 (Image credit: TBC)
It's been a year of surprising collaborations. APC with Supreme, Louis Vuitton with Kanye West, The Black Keys and Jim Jones, but news of SL columnists Billykirk making a collection that will stock at Urban Outfitters still shocked us a little. In fact, it shocked us so much that we got in touch with Chris Bray and asked him just how this collection came around.
"Our rep, Cory from Timothy Heenan Showroom, has dealt with Urban Outfitters before. They'd been fans of our line for some time but the price points were too cost prohibitive for their customer. One day at a recent trade show they asked Cory if we would be interested in doing a lower priced line.
We knew that working with Urban Outfitters and their low price structure meant we would have to look outside the USA for the production. This posed a few issues right off the bat. Firstly, we needed to develop another brand because Billykirk has always been produced domestically and will remain so. That brand became 'The Brothers Bray & Co'.
Secondly, this deal would have to be non-exclusive and finally we had to use a certified factory that made quality goods. Luckily, we had a friend who had spent over a decade working with a certified factory in China. This factory manufactured product for all the big names like Liz Claiborne and J. Crew so we knew we were in good hands.
Another factor in our decision to start this lower priced line was that over the years we have had many of our designs knocked off. Because we had been contemplating this lower priced brand for a couple of years it seemed logical that this was a good time to take the next step. Having these large Urban Outfitters orders gave us the ammo to finally compete with these unscrupulous companies.
Many of them simply release their minions of 'pseudo designers', armed with their corporate credit cards, to scoop up arm loads of new designs at top tier boutiques - these items are then sent over seas to be copied; Less than a month later and their version of our original designs are now gracing their chain store shelves. So, instead of these rip-off artists getting the money, we do. And more importantly, we can control the quality of materials, quality of construction and the price.
I would also like to point out that in these tougher retail times it only makes since for a company to spread themselves out and get in front of a larger audience. It goes without saying that this new line will have no hand-stitched details and the materials may not be as fine as the Billykirk collection but we are quite pleased with how the collection is turning out and with the initial reaction from consumers."
Jason Dike
Jack Moss is the Fashion Features Editor at Wallpaper*. Having previously held roles at 10, 10 Men and AnOther magazines, he joined the team in 2022. His work has a particular focus on the moments where fashion and style intersect with other creative disciplines – among them art and design – as well as championing a new generation of international talent and profiling the industry's leading figures and brands.