Selfridges presents The Film Project in an installation by Simon Costin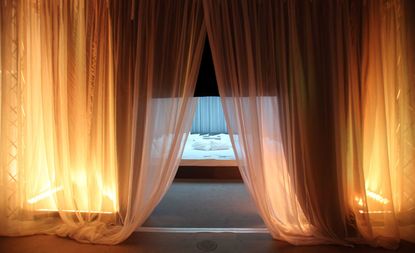 (Image credit: press)
A Parisienne playing the piano, Gareth Pugh dancing à la Liza Minnelli in Cabaret, and abstract clips of trees and forest are some of the subjects featured in The Film Project, currently running at the Old Selfridges Hotel in London.

Fashion houses A.F. Vandevorst, Alexander McQueen, Ann Demeulemeester, Comme des Garçons, Dries Van Noten, Gareth Pugh and Rick Owens were each invited to make a short film in order to celebrate the opening of the new Womens Designer Galleries at Selfridges department store. Eschewing the traditional shop floor launch, the idea was to create an experience where fashion, art and film collide.

Simon Costin, the project's art director, has transformed the semi-derelict former hotel into a gallery-type setting, whereby each of the seven films is shown in its own curtained 'pod'. 'The space is all exposed pipes and rough concrete, so the minimalist bones, that were a pre-requisite, were there already,' says Costin.

The largely grey palette and streaming white curtains are a vague nod towards the womenswear galleries, which feature interactive changing rooms and 10 different types of marble. 'I wanted to reference the building's former use as a hotel, so each designer has their own 'room'; Rick Owens in a library, Alexander McQueen in a vanity room, Comme des Garçons in a drawing room, and so on.'

There are three bedrooms, where films by Ann Demeulemeester, AF Vandervorst and Dries van Noten are projected onto the ceilings of four poster beds.' At last night's launch party, the beds were mobbed

The designers were given the brief of 'the strong woman' and all seven films differ hugely. Most don't even show garments, but are instead abstract vignettes with no obvious connection to fashion or retail. It's only when you look closely that you even know this an event to mark the new galleries, which feature eight boutiques within the store and a section devoted to key looks devised by the Selfridges buying team.

Costin, who art-directed the Pugh film, has, over the years, worked with most of the fashion designers involved. In the near future, he hopes to combine Selfridges and his true passion; British folklore. Last year, he launched a pop-up shop in South Kensington and is scouting the countryside for a venue in which to permanently base his Museum of British Folklore. 'I have always loved folklore. It runs parallel to heritage and culture and is all around us. It's a living tradition which needs to be celebrated.' You heard it here first.
Watch 'Mornlight' by Dries Van Noten
Watch 'Club Nouveau' by Gareth Pugh
ADDRESS
Old Selfridges Hotel
Orchard St
W1H 6HG, London
Emma O'Kelly is a contributing editor at Wallpaper*. She joined the magazine on issue 4 as news editor and since since then has worked in full and part time roles across many editorial departments. She is a freelance journalist based in London and works for a range of titles from Condé Nast Traveller to The Telegraph. She is currently working on a book about Scandinavian sauna culture and is renovating a mid century house in the Italian Lakes.