Trailblazer Rudi Gernreich's sensual 1970s swimwear is revived for summer 2022
This month, Austria-born designer Rudi Gernreich would have turned 100. In celebration of Gernreich's convention-defying designs, his eponymous label is re-releasing a selection of his radical swimwear from the 1960s and 1970s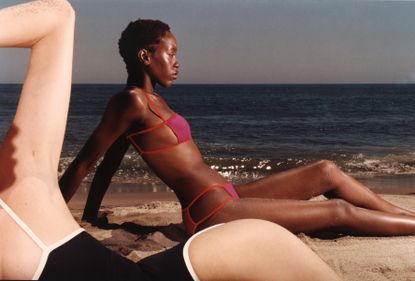 (Image credit: press)
You would be excused for thinking that the Instagram-ubiquitous thong swimsuit is a contemporary invention, primed for an era whereby any prudeness about exposing the body's curves has all but dissipated. Instead, the year was 1974, the place, Los Angeles, and the designer Rudi Gernreich, a Jewish émigré from Austria who had risen to fame with his modernist collections in the 1960s, which drew comparisons with French master of futurism André Courrèges but were distinctly American in spirit (indeed, despite Gernreich's rising renown, he steadfastly refused to show in Paris throughout his career, and would cite the 'mother of American sportswear' Claire McCardell as his ultimate influence).
In July 1974, the Los Angeles council had put an end to nudity on the city's beaches, making naked sunbathing and swimming a misdemeanor ('Los Angeles bans nudes at beaches' ran The New York Times headline on 24 July 1974). The thong swimsuit – made for both men and women – was Gernreich's playful response, its barely-there shape inspired by sumo wrestlers' singlets and the miniscule 'loin cloths' which men in his native Vienna would craft themselves for swimming in the city's public pools. The design was an illusion: a way to expose the body without breaking the law. 'The thong is my response to a contradiction in our society,' he said. 'Nudity is here, lots of people want to swim and sun themselves in the nude [but] also lots of people are still offended by public nudity.'
Rudi Gernreich reissues radical 1960s and 1970s swimwear
The design's influence would extend far beyond California's beaches; to this day, Gernreich is considered the modern thong's inventor, introducing the term into public parlance and inspiring the popular underwear style in its wake (such is his influence, both New York's Metropolitan Museum of Art's Costume Institute and London's V&A museum have a version of the Gernreich thong in their collections). It was not the first time that his suggestive designs had garnered publicity, though; in 1964, his 'monokini' – a bikini bottom held up by two thin straps, leaving the wearer's breasts exposed – had been revealed in Time and Life magazines, worn by model Peggy Moffitt to a maelstrom of controversy (the 'monokini' was banned in France, picketed by concerned mothers in the United States, and in the Vatican City, roundly denounced by Pope Paul VI).
For Gernreich, trained as a dancer, such designs arose not just from a desire for shock and publicity, but a deep-founded belief in the liberatory power of clothing. Among his other innovations were swimwear with underwiring removed, women's underwear inspired by men's athletic and boxer shorts (a move popularised by Calvin Klein in the 1980s), and the eschewing of the runway for direct-to-retail collaborations with chain stores (famously, he would create an exclusive line for the Montgomery Ward mail-order and department store). In his clothing, he sought modernity with use of vinyl and plastic across futuristic, abbreviated silhouettes; his clothing also combined art and fashion, with shapes, prints and patterns which drew on the graphic elements of the Bauhaus movement and Op Art. His worldview was utopian, an outlook he wanted to reflect in his work: 'Wherever, whenever, whatever – the bottom line is always human freedom,' said Gernreich in 1976.
In his lifetime, Gernreich had known the opposite. As a 16-year-old in 1938, Gernreich and his mother left the country of his birth, Austria, after it was annexed by Nazi Germany, fleeing to the United States as Jewish refugees. In America, Gernreich would learn that such liberation had its limits; by 1951, the designer had been arrested and charged for 'homosexual behaviour' in an entrapment case by Los Angeles police. In response, he was one of the early founders of the gay liberation movement in the United States with the Mattachine Society – a forebear of the groups founded in the wake of the Stonewall Riots – and with his clothing he also sought to dismantle codes of gender and sexuality, rallying against the status quo of what he called a 'repressed' society (in 1970, Life magazine asked him to conceive clothing for the future, which he made entirely unisex; later, he would create his 'Uniform Collection' designed for both men and women to wear). 'There's something very good about destroying archaic values which are unreal for today,' he said in 1970. 'It's a positive act. It's healthy.'
This month – August 2022 – would have marked Gernreich's 100th birthday (born on 8 August 1922, the designer lived until he was 65, dying of cancer on 21 April 1985). To mark the occasion, his eponymous label is relaunching a number of his most memorable swimwear designs, including 'The Thong' swimsuit and (for the brave) 'The Monokini'. Other elements of the capsule swimwear collection include graphic cut-outs, knotted briefs and halterneck fastenings, reimagined in a palette of graphic black and white, alongside shots of lime green, cerise, caramel and sable. True to his futuristic vision, the designs feel as if they were created for our present day – a testament not only to Gernreich's ability to look beyond his present moment, but also to the enduring influence of his work.
The label says that the timing is ripe for a Gernreich revival: 'Society has caught up with him in some things, in some, we still have far to go,' it says in a statement. 'The issues he addressed back then – transgender and woman rights, equality between all races and sexes – are again at the forefront of our social discussions.
'We bring his original designs and principles back into circulation for new generations to experience and show how much they still make sense. We want to support his most hopeful vision of the future – that change, freedom, and equality are attainable and not just desirable, and to bring a more free "Future" ever closer.'
INFORMATION
Receive our daily digest of inspiration, escapism and design stories from around the world direct to your inbox
Jack Moss is the Fashion Features Editor at Wallpaper*. Having previously held roles at 10, 10 Men and AnOther magazines, he joined the team in 2022. His work has a particular focus on the moments where fashion and style intersect with other creative disciplines – among them art and design – as well as championing a new generation of international talent and profiling the industry's leading figures and brands.