Red Light Fashion, Amsterdam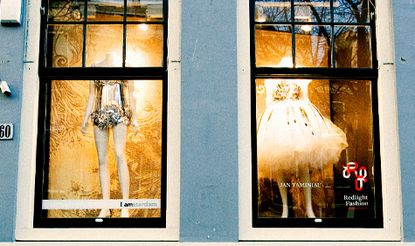 (Image credit: press)
Red light re-gentrification was issue of the day for our 'Where did the Love go?' feature in last months sex issue – and as such we thought we'd head over to Amsterdam to see exactly what's been going on.
Fully legalised back in 2007, Prostitution is now under the strict thumb of Amsterdam's city council. Planning to 'dismantle the criminal infrastructure' and, in their own words, return a 'chic and shady' sense of balance to the community, brothels are closing left, right and centre.
With plans for a Las Ramblas style red carpet from Central Station into the Red Light District featuring 'a Harrods of Amsterdam', the city has called in creative consultants HTNK (opens in new tab) to commission up-and coming Dutch fashion designers to fill the empty brothel windows before squatters set in.
See our pick of the best Dutch fashion designers currently filling the red light district (opens in new tab)
There is certainly some interesting stuff on show. With black, red and aquamarine 3D-print tunic dresses from ...andbeyond (opens in new tab), and avant-garde masks, dolls and out-there streetwear from the omni-pierced Bas Kosters (opens in new tab) - there is talent a-plenty. Though the prostitutes tend not to agree, as our ex-prostitute guide, Metje, reveals in her husky, filed-off tones - 'the girls don't like the mannequins, they make them feel self-conscious'
Whilst the prostitutes themselves may not be able to live up to the impossible plastic standards of the mannequins, the work in-situ captured our imaginations, and we thought we should give you a quick low-down on the top five young designers to come from the red light district designers in residence.
Check back in November to see more on the Red Light District, with the National Gallery (opens in new tab)'s exhibition of Ed Keinholz's Hoerngracht - an expansive, walk-in tableau depicting Amsterdam's Red Light District in the 1980s.
Jack Moss is the Fashion Features Editor at Wallpaper*. Having previously held roles at 10, 10 Men and AnOther magazines, he joined the team in 2022. His work has a particular focus on the moments where fashion and style intersect with other creative disciplines – among them art and design – as well as championing a new generation of international talent and profiling the industry's leading figures and brands.