Raf Simons' private ceramics collection goes up for auction at Piasa Rive Gauche in Paris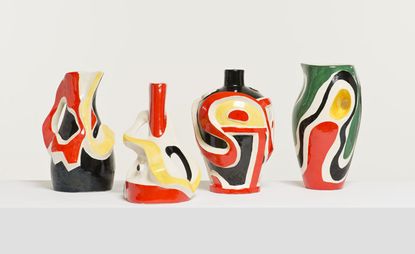 (Image credit: press)
Christian Dior's artistic director Raf Simons has had many design lives, having begun his career as a furniture designer before fashion caught his eye. He founded his eponymous menswear label in 1995. Then, in 2005, Jil Sander and womenswear came calling, followed by couturier Christian Dior in 2012.
Few knew about Simons' ceramics period, or his expansive collection of French pottery that will go under the gavel at Paris' Piasa Rive Gauche auction house (opens in new tab) on December 17. 'French Ceramics 1945-70 (opens in new tab)' comprises 205 lots, including 99 pieces from Simons' private collection, amassed over 15 years and featuring works by Georges Jouve, Roger Capron and Pol Chambost.

'When I was studying industrial design in Genk in the early 1990s, I was lucky enough to be taught by the Belgian ceramicist Piet Stockmans,' explains Simons in the auction catalogue of his introduction to earthenware. 'I became interested in furniture designers from the 1950s and 1960s, like Charlotte Perriand or Nakashima, and also in ceramics.
'Before that, I trained with Walter Van Beirendonck in Paris (opens in new tab), where I discovered the flea market at St-Ouen, which fascinated me,' he continues, adding commerce to the mix.
After graduation it wasn't long before Simons started buying and selling ceramics at Belgian antique markets. 'I even lived from this activity for a year or two,' he says. However, up until now the designer's Antwerp home has been the sole showroom for his sizeable collection. (It has also been known to influence his day job; some may recall the distinctive corolla shapes of Pol Chambost celebrated in his Autumn/Winter 2009-10 Jil Sander show.)
'Both with the heart and with the idea of adopting a curatorial approach,' says Simons of his style of collecting. 'That doesn't mean assembling a large amount of works by the same artist, but rather assembling emblematic pieces that help provide a better overview of his or her work. To me a collection is more a matter of time than of speed.'
The Belgian is the latest high-profile fashion designer to hit the auction circuit, Karl Lagerfeld having sold off multiple interiors collections over the years, from his 18th-century phase to the Memphis design period, as well as an Art Deco-themed lot.

But for Simons the sale does not represent an end point: 'I'm a designer, and for me things are always evolving, and such evolution is necessary. Just because they are being sold does not mean these pieces will be lost, or that I am no longer excited by great French ceramicists. Yes, of course - I'm sorry to see them go. But I'm happy to turn towards different pieces and new horizons.'

In the lead-up to the auction we spoke to Piasa's vice chairman and chief executive, Frédéric Chambre, about the significance of Simons' collection...
W*: In the catalogue Mr Simons says that French ceramics from the 1950s to 1970s have an 'identifiable and electric language'. Can you expand upon those characteristics?
Frédéric Chambre: The period spanning the 1950s to 1970s is considered the 'Golden Age' of French ceramics. French ceramics enjoyed an unprecedented creative boom, thanks to the emergence of a new breed of prolific and inventive artists, who elevated their craft to the level of art. They included Suzanne Ramié [1905-74], who founded Atelier Madoura with her husband Georges; Pablo Picasso was among their illustrious guests in Vallauris from the late 1940s, along with Jacques Ruelland [1926-2008] and Dani Ruelland [born in 1933], who rubbed shoulders with the Paris intelligentsia of St-Germain-des-Prés, while designing pieces with pure, anthropomorphic forms bursting with colour. Georges Jouve [1910-64], meanwhile, produced items with a perfect blend of rigour and imagination, imbued with special poetry, and collaborated with the leading designers of his era.
What are some of the most significant pieces in the collection and why is this auction garnering so much interest?
Raf Simons' collection is an incredible testament to the creation of French ceramics. One of the major items in the collection is a large, amazingly biomorphic vase by Valentine Schlegel, which is sure to arouse lively interest among international collectors [Lot 62, with an estimate of €20,000-€30,000]. We are also very excited to offer several groups of vases from Pol Chambost and Georges Jouve that are revealing the best of each artist's interpretation of colour and form.
Can you tell us about the setting for the show's preview, designed by Thierry Lemaire?
For each sale, Piasa Rive Gauche invites an architect or an interior designer to create a new vision of the shade lights on the works we are offering. In the past year we have worked with talented people such as Charles Zana, Gilles & Boissier and Pierre Yovanovitch. Decorator, designer and architect Thierry Lemaire's universe responds to the universal desire for chic and harmony. He provides a simple and timeless vision of a style that announces the classicism of the future.
ADDRESS
Piasa Rive Gauche (opens in new tab)
83 rue du Bac 75007
Paris, France
VIEW GOOGLE MAPS (opens in new tab)