Q&A with Bali Barret of Hermes Silk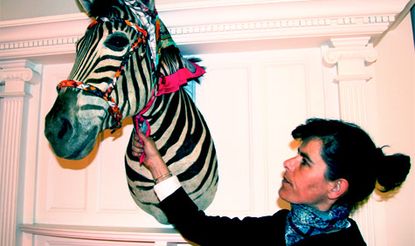 (Image credit: press)
Bali Barret has been at the Helm of Hermes (opens in new tab) Silk for the past six years, and her latest collaboration with maestros of print, Liberty of London (opens in new tab), looks set to take the store by storm for the next six weeks. Here we talk to Bali about the Liberty cross-pollination, scarves for men and dipping some of Hermes seminal silks in dylon.
Collaborations are big business these days, how did your partnership with Liberty come about?
Well, Liberty originally approached me with the idea of setting up a pop-up store and, seeing as it was something I'd never done before, I decided to set up a meeting. The process was so easy and immediate, it was about friendship and the whole thing came about very organically. We started discussions in May, designed in July and printed in August – which is unprecedented for Hermes. Everything just worked!
How much have you been involved with the design of the 'ephemeral' store itself?
Well, Liberty asked me to make a sketchbook of my inspirations and ideas, and the store itself was interpreted from that. Liberty found a few artists including Kyle Bean and in-house window designer Becky Cox and the whole thing just came together. We wanted to include fun elements throughout, so with Hermes's equestrian symbol we replaced it with a zebra and Bean produced a beautiful range of handmade Hermes-orange objets d'art, including peep-hole cameras and spinning toys.
Where did your inspiration for the Liberty scarves come from?
We didn't actually think about making a scarf originally. However, I've always been a very big fan of Liberty fabric, so I proposed that we produce a special print - a print imbued with the flavour of both houses – featuring both the characteristic Liberty micro floral and the Hermes iconic ex-libris along with a range of new and unexpected colour and pattern combinations.
What is it about Hermes scarves that carry such enduring sartorial loyalty?
Hermes is the only house that has been producing a scarf collection for the past 70 years. It's a very serious point for us. When something is that well-established people start to realize the gravity of it. Also, we always attempt to renew and keep our finger on the pulse by re-editing our archives, but also working in exactly the same way we have always worked - the minimum amount of time it takes to make an Hermes scarf for instance, is still 2 years.
Both Hermes and Liberty have a long heritage of textile design, what has prevented past collaborations?
We were never really looking for collaborators. To be honest we were very happy on our own – we have our own stores and our own identity, but of course we are open to new people, Hermes is the house of 'why not'. If there is a spark - as there was with Liberty - we'll go for it. As long as there is a good relationship of course,
What has been the highlight of your Hermes tenure?
A highlight is hard to define, but I have been very lucky. Every day I think that 'I am lucky to be here'. Creativity is still very much respected at Hermes and art direction is at the core of the house. Very few houses can say the same.
We are particularly fond of your cravats for men, how are they received in times such as these?
It's difficult because there are two sides on the tie front these days. Those who are fashion-forward are now very excited by ties, but people with a more formal taste are leaving their ties behind - they are becoming more casual. Scarves however are on the up. The more casual Losange for example is an easy way for a man to wear a scarf - it offers a less feminine ways of wearing scarves. We need to teach men how to wear scarves!
Any other scarf-based collaborations in the pipeline?
No, we have no other collaborations in mind at the moment. But we do have lots of secret things I'm just itching to tell you about…although I'm not allowed to at the moment!
What would be your favourite ever Hermes scarf, past or present?
Well our most iconic scarf is undoubtedly the Brides de Gala - the pink, gold and black chain design which most people associate with Hermes - the piece I'm most proud of however is my dip-dyed version of the very same. I just took the scarf and dipped it in a vat of dylon – a process which left an imprint of the pattern but also produced an entirely new and unexpected effect. It was a way of recycling a scarf which desperately needed a breath of new life - and the dye also made the silk feel gorgeously vintage.
Jack Moss is the Fashion Features Editor at Wallpaper*. Having previously held roles at 10, 10 Men and AnOther magazines, he joined the team in 2022. His work has a particular focus on the moments where fashion and style intersect with other creative disciplines – among them art and design – as well as championing a new generation of international talent and profiling the industry's leading figures and brands.