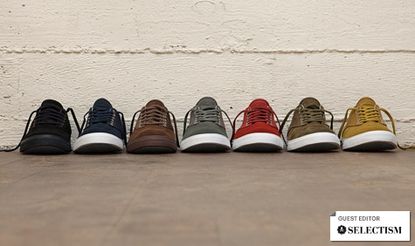 (Image credit: press)
By the 1960s, California was a certified hub of good design, fresh fashions and inimitable cool. From the Pasadena Museum of Arts California Design series (highlighting the likes of Eames) to hot rod culture, and of course the smooth style of Steve McQueen, the state was very much at the vanguard of American culture. Add the relaxed atmosphere of the beach and Richard Nuetra's west coast adaptation of mid-century modern, and one begins to discover the wealth of inspiration and diversity that exploded during the decade.
One of the State's near forgotten 1960s exports, Seavees was reintroduced to the world in 2006. Originally launched by B.F. Goodrich in 1964, the initial derivation of the Seavees brand speaks to a time when many tire companies sidelined in rubber soled footwear. Goodrich managed Seavees for only a short time before selling off their shoe stakes to Converse.
A complaint to the US Department of Justice in 1971 led Converse to sell off some of their assets (they'd been charged with holding a monopoly on shoe manufacture). They kept the Jack Purcell, inherited from Goodrich, shipped off P.F. Fliers, and ultimately decided to shut down operations of Seavees. Seven years after launch, the brand would lay dormant for almost 40 years.
Unlike many of the heritage brand stories we are fed, the new Seavees story is much more about cultural history than it is about revival. Derek Galkin and Steven Tiller are the new minds behind Seavees. They met for the first time in Los Angeles Avalon Hotel. A modernist masterpiece, the space was undergoing a rehabilitation of its own at the time of the meeting. Unknowingly, the hotel's history would feed into an underpinning of a brand Galkin and Tiller began to hatch. The location provided a space for the two to share values and ideas around shared aesthetics and aspirations.
As co-founder of Medium, Galkin was no stranger to the footwear industry. Neither was Tiller, who was working with Sperry Topsider at the time. Both men had an affinity for Sperry, a love of its heritage and the romance surrounding an icon. A meeting originally intended as a discussion of the brand turned to something new - the spark behind a then unnamed brand. They spoke for months, batting ideas around and clarifying their desires.
Still, nothing tangible emerged.
A trip to Japan would provide the next spark. Tiller was in Tokyo on a trend shopping trip, and behind glass discovered a vulcanized shoe he'd never seen. An avid collector, the shoe captured him. He asked the proprietor to open the case, and then held in his hands a sneaker with light blue herringbone outsole and a heal tab slightly askew on the lateral side. The cost was $400. Tiller bought the shoe thinking at the very least it would be a nice addition to his collection. It turned out to be the beginning of something real.
Back in the States, Galkin and Tiller dug around and unearthed the forgotten Seavees brand. They liked that it was a California company. They were enamored with the early advertising - clean imagery depicting a classically attired man leaning against his car, girl by his side, the excitement of a rally race in the background. Going back to the shared values explored at the Avalon hotel, the two men saw a brand beginning to take shape.
Here was a shoe, and a brand, that appealed to their sense of history. And, furthermore, it appealed to an interest in California culture and design from the 1960s, providing a base platform for a new company that allowed for contemporary reclamation of a style forged by Steve McQueen, the music of Brian Wilson, and the now revered mid-century Californian architecture. The rich heritage of California, and explicitly the cultural production of the 1960s, generated a wealth of inspiration from which to form a new story. A second chapter for Seeveas.
Having revived brands before, Galkin and Tiller were not interested in simply bringing back the old. For one, the Seavees company was too small. Beyond the basic story and a few extant advertisements all they knew was the original price - $5.99 - and that the offerings came in four color choices.
What they did know was that the name, Seavees, was perfect for their brand of respectful rehabilitation. It would be a new collection built on 40 years of reflection and contemplation. Rather than revive they developed an aesthetic hinged on contemporary amendments - adding leather linings, better footbeds, and using natural rubbers.
The admiration for California culture, and the continued discovery of the rich archive of 1960s California life, ensured a rich cache of inspiration. 'For us, Seavees had great bones. It had a name that had the ocean in it, one of our favorite things. It had a clean logo. It provided a platform for us to be true to ourselves and celebrate an era.'
This platform is never compromised, nor is it contrived. One of the most well known portions of the contemporary Seavees collection comes in the connection to Pantone. Through years of design work, both Galkin and Tiller had reached for Pantone wheels on a daily basis. They wondered how to properly connect to the color giants, when once again a little research struck gold. Founded by Lawrence Herbert in 1963, Pantone itself fit the tie of 1960s innovation.
Reaching out to Lisa Herbert, Galkin and Tiller expressed their desire to honor Lawrence's vision and celebrate the 1960s. They were granted a rare opportunity to draw from Pantone's original guide, containing 517 colors. Now, they respectfully choose seven shades to reissue per season.
This story illustrates how Seavees works today: find inspiration and discover how to tactfully create a compelling product that speaks to their base period of interest. The collection is built out of similar nods to precise moments in time. Shoes are named after dates. For example the '12/62 Desert Boot' takes name from the completion date of Richard Nuetra's Maslon House in Palm Springs, a distinctive home indicative of the Desert Modernism movement. The '5/66 Slip On' refers to the release date of the Beach Boys Pet Sounds album. Moments like these, and recollections of California past, provide the character of Seavees. They also help to reclaim and re-imagine past styles.
First shown at last months PROJECT in Las Vegas, a future Seeveas model takes from the popular trend for bleeding madras. All the rage in 1960s California, bleeding madras came before threads were colorfast. Navy threads bled, and in wear, light threads begin to take the navy. There was no control and this function of the material made all garments unique. Galkin and Tiller found the story of bleeding madras perfect for Seavees. With the help of Chris at Gitman Bros. they have realize the idea, with archival fabric supplied by the New York-based company.
Moments of discovery coupled with a genuine love of research makes Seavees what it is today. Distinctive shoes without standing out, they are at once contemporary and respectful of history. The story itself speaks to the potential of the past to authentically play out in new product. Seavees is the story of California -- the story of the State's cool. And, it's the story of two men who realize a platform from which to push their values and beliefs. As Galkin and Tiller put it, "We provide a journey to rediscover an era."
Nick Schonberger
Receive our daily digest of inspiration, escapism and design stories from around the world direct to your inbox
Jack Moss is the Fashion Features Editor at Wallpaper*. Having previously held roles at 10, 10 Men and AnOther magazines, he joined the team in 2022. His work has a particular focus on the moments where fashion and style intersect with other creative disciplines – among them art and design – as well as championing a new generation of international talent and profiling the industry's leading figures and brands.