Block buster: New York architect Peter Marino on delivering the luxury goods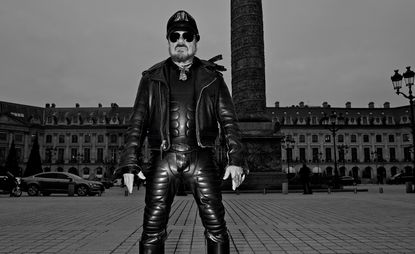 (Image credit: Photography: Charles Petit)
Nobody else on the Place Vendôme looks even remotely like Peter Marino. Standing in front of the square's landmark column, he is dressed in his habitual head-to-toe black leather, dark shades covering his eyes. Around his neck hang silver blade-like pendants, which he lovingly refers to as 'biker trash'. The New York architect might be a hidebound biker from Queens, but he has felt right at home on one of the world's most exclusive squares since the 1980s, when he often stayed at the Ritz on business. 'I believe in karma,' he says, 'and certain places call you.' By the end of 2018 he will have put his signature on seven different addresses here.

Many belong to the LVMH group, with whom he has a close relationship, but there's also Graff and Chanel Fine Jewellery. Marino is the rare architect who can design neighbouring boutiques for competing houses, making each one unique. He developed this creative adaptability early in his career, when he was working on private residences. 'Mrs Smith would never hire you if Mrs Roberts' home had even one table like the one she had,' he says with a chortle. 'You just don't do it, because you ain't gonna get that job if you do.'

The first Place Vendôme address he designed was for jewellery brand Fred, in 1999, though the décor has since been replaced due to wear and tear. In 2007, he unveiled Chanel Fine Jewellery, with silk-covered walls and a stunning chandelier in rock crystal and bronze by artist François Pascal, while 2010 saw the completion of Hublot, with a monumental painting by John Armleder, and Dior Joaillerie, where intimate salons encircle a central atrium, all in 56 shades of grey.
Graff took its place alongside the Ritz in 2016. Laurence Graff, the company chairman, says he called Marino as soon as he found the right location. 'We wanted to create a jewel box in the heart of Place Vendôme, and Peter brought that vision to life. He took our signature Graff Green and softened it, reflecting the glamour of the 18th century.' Marino is currently working on a second address for Graff in the same area, near Hôtel Costes, and is also working on a new Bulgari boutique on Place Vendôme, set to open in late 2018.

Last October, a magnificent new Louis Vuitton address opened on the square: two 18th-century hotels particuliers combined, their former magnificence restored with stone floors and parquet patterns. Marino mixed old and new, contrasting a stone staircase with modern glass balustrades, playing with textures from bronze to straw marquetry, and nodding to house codes via details such as lacy leather logo curtains.

Aside from their luxuriousness, what these spaces have in common is that they are practical and inviting, turning shopping into an appealing experience. 'I'm more interested in the customer than the merchandise,' he admits. 'Peter understood that retail is not the most essential thing,' says Michael Burke, CEO of Louis Vuitton, 'but feeling engaged and connected is.'
Chanel Fine Jewellery, 2007
Hublot, 2010
Dior Joaillerie, 2010
Graff, 2018
Fred, 1999
Graff, 2016
Bulgari, 2018
At the new Louis Vuitton store, for example, clients are surrounded by comfortable seating, where they can admire museum-quality art along with clothing and accessories displayed for easy viewing. Natural light has been a priority throughout Marino's career, ever since his wife, a costume designer, told him to uncover the windows at New York's Barneys department store.

Also key to his stores is contemporary art, often site-specific. A passionate collector, Marino has not one Rothko but two, is helping to fund the restoration of Antonio Rizzo's statues at the Palazzo Ducale in Venice, and creates art himself, such as sculpted bronze boxes for Gagosian last year. He was given free curatorial rein at Louis Vuitton, where he chose 33 works for the space, including a portrait of young Louis Vuitton by Yan Pei-Ming, two colourful paintings by Kimiko Fujimura, and Rashid Rana's composite of 20,000 photos depicting Place Vendôme. 'When you work with artists, you get a better result,' Marino says. 'Pope Julius wasn't wrong in hiring Michelangelo to paint a few ceilings.'

The architect vetted each piece with Michael Burke and LVMH CEO Bernard Arnault. There's obviously a lot of trust there – Marino has worked for Arnault since 1995, and he must be one of the only people who dares call the luxury goods titan 'Dude'. He says Arnault looks over each of his plans with a sharp eye. 'He'll say, "I hope you don't mind, but I think this and this could use improvement." I go, "Dude, not only don't I mind, I'm going to get the credit for having it look much better!"' Shortly after our talk, he dashes off to a meeting about his work on the iconic Samaritaine, which LVMH is turning into a hotel and retail spaces.
Though Marino makes a large part of his living designing stores, he rarely goes shopping – with major projects on the go from New York to Tokyo, a KTM 1290 Super Duke R to ride and an immense garden to tend at his Southampton estate in New York, there's simply no time. He also designs his own leather gear, handmade by a 'guy in the Dominican Republic' and so stiff he can't remove his jacket without help.

Indeed, if Marino has a signature style, it's in his own look. 'I rarely want to buy something someone has designed for an anonymous person. I find that weird, because they have not designed it for you. When I'm into being anonymous, I will go there.' And then there's that infectious laugh again: 'At the moment, I'm not.

As originally featured in the March 2018 issue of Wallpaper* (W*228)
INFORMATION
For more information, visit the Peter Marino Architect website (opens in new tab)