'Peter Lindbergh: Untold Stories' opens in A Coruña, Spain
The port city in the Galicia region of Spain plays host to 'Peter Lindbergh: Untold Stories', an exhibition spanning four decades of work, curated by the photographer himself before his death in 2019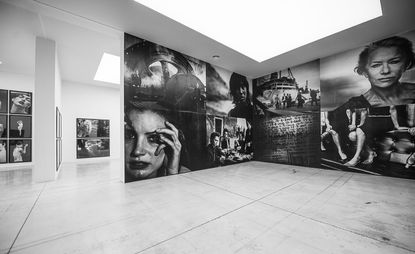 (Image credit: Mathieu Ridelle)
The raw, unretouched, black and white beauty of Peter Lindbergh's images – immortalised in fashion history by models including Naomi Campbell, Kate Moss and Linda Evangelista – were inspired by the sweeping beaches and industrial skyline of Duisburg, Germany, where Lindbergh grew up.
In 2018, a year before Lindbergh passed away, the renowned photographer visited A Coruña, the port city in Galicia, northwest Spain, and was struck by its landscape. 'The connection between the harbour city and his aesthetics resonated immediately. Galicia's gloomy weather, the tumultuous tide waves intertwined with the omnipresent industrial background seemed like a perfect counterpart to the Ruhr region, where my father grew up,' explains Lindbergh's son Benjamin.
Peter Lindbergh: Untold Stories – four decades of photography
Now, A Coruña is the first city in Spain to host 'Peter Lindbergh: Untold Stories', the landmark exhibition that the photographer curated before his death, combing his four decade's worth of archives – brimming with images of A-list actresses such as Uma Thurman, Charlotte Rampling and Nicole Kidman, and supermodels alike – in order to select more than 150 images that represented his emotional, narrative-focused oeuvre. The show first opened at Museum Kunstpalast in Düsseldorf in early 2020.
'Peter Lindbergh: Untold Stories' finds its new home in a converted industrial building in the harbour area of A Coruña – a renovation overseen by local architect Elsa Urquijo. The show – which was designed by Lindbergh alongside Thoaï Niradeth – is curated according to three sections. Lindbergh hitchhiked to Arles in the 1960s, following in the path of his idol Van Gogh, before joining Düsseldorf-based Stern magazine in 1973, along with Helmut Newton, Guy Bourdin and Hans Feurer; the opening section of the show dives into his understanding of fashion photography. Elsewhere, his best known works are celebrated – think intimate images of Naomi Campbell on the beach in Ibiza in 2000, and Karen Elson nude in Los Angeles in 1997 – alongside unseen images from his cannon.
Testament (2013), a film installation, closes the show, a poignant video shot through a one-way mirror showing the silent 30-minute exchange between Lindbergh's camera and Elmer Carroll, The Florida death row inmate who was executed that same year, by lethal injection. The film emphasises the diverse range of subjects that Lindbergh photographed, also spanning a collection of Giacometti sculptures, which were exhibited by the Gagosian Gallery in London in 2017. That year, Lindbergh told Wallpaper*, 'a photograph has nothing to do with the person you are photographing. It has to do with what comes out of the person when you're with them, and what you can give them.'
The new exhibition in A Coruña also sees the release of Raw Beauty, a printed companion piece – which complements the Taschen-published monograph Peter Lindbergh: Untold Stories – written by Michel Benson, which features interviews with people who shaped Lindbergh's world, among them Larry Gagosian, David Chipperfield, Olivier Saillard and Naomi Campbell.
INFORMATION
'Peter Lindbergh: Untold Stories', on view 4 December 2021 – 28 February 2022
ADDRESS
Muelle de la Batería s/n, A Coruña, Spain