Part of the puzzle: Loewe's Jonathan Anderson on his new S/S 2016 men's collection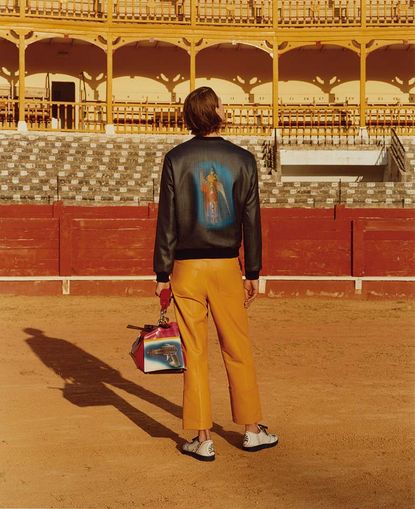 (Image credit: Jonathan Anderson)
An impeccably trimmed bonsai tree positioned centrally in the entry the Loewe Paris headquarters on rue Bonaparte hinted that Jonathan Anderson's spring/summer men's collection for the Spanish brand might be channeling Japan. And indeed, from the robotic characters illustrated on the faceted leather 'Puzzle' bag to the mirrored spaceship patches adorning linen uniforms, the designer fused a decidedly playful spirit with the brand's innate pursuit of craft. The large format book containing collection images, once again shot by Jamie Hawkesworth, underscored the dynamic juxtaposition - which Anderson described as 'Bruce Lee in a bullring.'

From one end of the presentation space to the other, from a Goofy sweatshirt to an 18th century Japanese screen, he gives Wallpaper* the inside track on how this highly inspired collection came to life…

Wallpaper*: How did you arrive at this particular Japanese influence?
Jonathan Anderson: I wanted something that ultimately [explored] how you reflect tradition in the modern day - how these two things coincide and live alongside each other. If you think a classical building and a modern building or the young person and the old person, how do they correlate and work together? Where is modernity found, is it from the past or the future? And so I had this idea of snapshots and questions. I didn't want to look at a Japanese reference in a cliché way.

You hardly design in clichés. And anyway, Japanese culture naturally embraces the push-and-pull of past and future.
Yes, also, my thinking here was how do you ultimately harness craft and how do you articulate it in a way that does not feel nostalgic. And I think in my work - even my own brand - I've always been influenced by Japan.

Does the space always look like this?
The tables are always like this and then we change the materials each time. So this time it's all mirrors and black floor. And then there's the idea of showing the modernity that can be found in history of Japan that is still relevant today.

The mirrors around the room seem like a contemporary nod to Japanese screens.
The screen at the far end is from Japan circa 1730s. We got it from a dealer in Hong Kong; it came from the countryside and would have been on the outside of a building with a veranda. I think the modernity in something like that is the benchmark. That's how high you have to go.

What are the models wearing here?
This is our second Spring/Summer collection; so for me, the focus was linen and how you position linen in a luxury context. I wanted eclectic, talisman patches; some are laser-cut leather with chain. Then I tried to find newness in leather, no matter how big or small. The bag is de-embossed and then there's foam behind that gives the relief pattern. This pajama-style top is in kangaroo. We're playing with the codes that we've already been building and animating things as we move forward. The business is primarily a bag business but I'm trying to establish the fashion language within it.

Are you trying to shift the positioning of Loewe?
Ultimately, it's a brand that has to compete and has to be relevant each season. So it's important that it's refreshed and no one knows where it's going. I think that's the excitement. For me, it's a new brand.

New Loewe ads are ubiquitous in Paris right now. It feels like the city is being hit with the brand - in a good way.
That's the whole point. Yes it's for press, but fundamentally, it's to try and break down the rules of in terms of who receives the information first. So it's about taking information directly to the consumer. And they experience it at the same time.

You've included another young Steven Meisel self-portrait into the mix.
We did it last season with him kissing [model Sean Bohary]. Stephen has become a major collaborator; I couldn't do it without him. I wanted something that showed him in a personal light and I wanted to show a creator who's human.

These puzzle bags with all their graphic detail will define the season.
I love that about fashion - when you buy something that represents that moment. I think I live for that part of it. I like that you associate things with a certain period but that when you come back to it, it's a different thing.