MoMu Fashion Museum Antwerp makes impactful reopening
Momu Fashion Museum Antwerp reopens following renovation, with an impressive programme of shows that embrace its location and reflect on the industry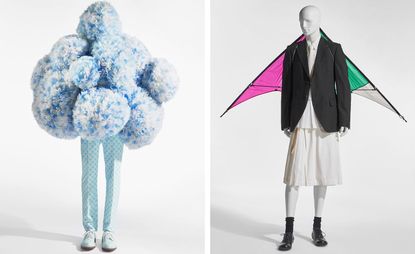 (Image credit: Stany Dederen, MoMu Antwerp)
The challenges of displaying archival fashion are multiple. What do people want to see when they come to a museum to look at clothes? What can we learn from dresses, tracksuits and coats fixed on mannequins under creamy spotlights? Kaat Debo, director at MoMu Fashion Museum Antwerp, has been asking herself these questions since the museum closed for extensive renovations in April 2018.

'It gave us a time to reflect on how we want to evolve. At this point in time, I felt the need to stage an exhibition that really reflects on the industry. I have this love/hate relationship with fashion,' she says. 'It is so inspiring, it can be emotional, but it also has these dark and ugly sides.'

MoMu opened in 2002, as 11,000 sq m squeezed underneath Antwerp's Royal Academy of Arts' fashion department. B-architecten has added an extra 800 sq m of public viewing space and three exhibition areas to the corner building on Nationalestraat, which dates back to 1894.

MoMu's position – a fashion museum with a fashion school on top – creates a unique ecosystem for observing clothes. During term time, students can be seen spinning through the revolving doors cheek by jowl with tourists, dragging huge garment experiments up the wooden staircase that is a signature of the 2002 design by architect Marie-José Van Hee. 'As a museum, you're in the middle of society and you need antennas. You need to know how society changes around you and be a place where you can have a dialogue,' Debo says. 'I don't want people to consume the exhibitions we make and then after two weeks forget about them. I always like it when shows leave an impact on people.'
MoMu Fashion Museum Antwerp: reopening with three shows within 'Fashion 2.021 Antwerp – Fashion/Conscious'
The small city of Antwerp is known for its discerning, off-kilter glamour – best canonised in recent times by designer Demna Gvasalia's poignant twist of local souvenir T-shirts for Vetements, and in Dries Van Noten's S/S 2022 menswear lookbook shot against a backdrop of the city's sights. MoMu's permanent collection now has its own space to unpack notions of Belgian fashion. 'Over the past three decades we have seen this amazing globalisation, which means Belgian fashion is a kind of sensibility, a quality label that is more complex than just looking at designers born, raised or educated here,' Debo says.

The inaugural thematic show – 'E/MOTION. Fashion in Transition' – is about 'emotion and the importance of it within fashion', curator Elisa De Wyngaert says. It is also about seeing fashion in perspective. A video clip of US President Bill Clinton, openly denouncing fashion for embracing the 'Heroin Chic' look at a press conference in 1997 casts a reflection on a framed picture of a model in dishevelled slip dress and smudgy eye make-up by Davide Sorrenti.

Richard Bush's portrait of a model looking vacant and splattered in ink (originally shot for i-D's October 2001 issue and pulled right before publication just after 9/11) is shown next to a S/S 2002 look from Walter Van Beirendonck's æstheticterrorists line, which he went on to rename. 'We start at the 1990s and look at the systemic changes since, because there have been three very tumultuous decades. All of the objects are metaphors or icons for certain emotions and changes,' De Wyngeart says.
Within the MoMu permanent collection, which is on display for the first time, there are new acquisitions from younger designers such as Molly Goddard, Kenneth Ize and Simone Rocha. It is standard practice for institutions to only collect from labels that have been active for more than five years, but Debo is more spirited.

'Yes, you need historical distance in order to decide whether something has relevance, but fashion just doesn't allow you that time. If I wait for five years to collect something from Supriya Lele's first collection, she might not be in business anymore and then it will take us longer to find it. If you want the entire look, you need to buy it when it's presented. Why wait to show something in the museum if you feel that today it has an interesting story to tell?'
Whilst working on the inaugural shows, which also include 'P.LACE.S – Looking through Antwerp Lace', an exhibition tracing the relationship between the city and the lace trade, the team at the museum asked designers and students: what is success to you? Is it economic success? Are you successful when you sell your brand all over the world? Is that even necessary? Fragments of their answers are brought together in a series of live performances by director Benjamin Abel Meirhaeghe in collaboration with Opera Ballet Vlaanderen that bookend the show.

Debo says: 'I really feel one of the most important qualities for museums is empathy. You need to be empathic with the people, the communities, and the world around you. If you don't, you will lose your relevance.'
INFORMATION
momu.be (opens in new tab)
London based writer Dal Chodha is editor-in-chief of Archivist Addendum — a publishing project that explores the gap between fashion editorial and academe. He writes for various international titles and journals on fashion, art and culture and is a contributing editor at Wallpaper*. Chodha has been working in academic institutions for more than a decade and is Stage 1 Leader of the BA Fashion Communication and Promotion course at Central Saint Martins. In 2020 he published his first book SHOW NOTES, an original hybrid of journalism, poetry and provocation.