Luggage leaders: Troubadour and Sunspel's rainproof collaboration
Troubadour and Sunspel team up on a rainproof luggage collection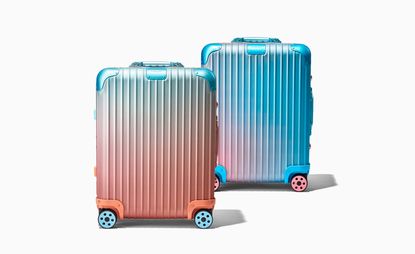 (Image credit: press)
Aircraft carry-ons, overnight bags, passport holders and travel pouches; there's a plethora of travel companions out there. From transparent cabin bags to personalised pull alongs, we present our curation of the finest luggage, guaranteed to generate desire in the departure lounge and beyond...
Troubadour x Sunspel
April showers are soon to be upon us (not forgetting the torrential downpours of last month's savage Storm Dennis) and Troubadour's latest collaboration with Sunspel is sure to keep your essentials away from rain water. The label's collaborative range of limited-edition bags – including a backpack, tote bag, and brief case – are imagined in a new navy technical canvas, which nods to Troubadour's performance heritage and Sunspel's celebration of natural fabrics. We suggest you elevate your office attire with this sleek briefcase, sure to improve your commute to the office, come rain or shine.
Rimowa
Rimowa has struck gold with its latest release. Long favoured by businessmen and Bond villains alike, the German brand's signature aluminium case has taken on a new life in the special edition Rimowa Attaché Gold. Keeping to the classics in an auric reimagination of its original briefcase, this collector's item retains the hallmarks of its vintage predecessor while embracing modern minimalism. With its smooth polished surface, rounded edges and sharply defined grooves, it gives a real Midas touch to the world of office accessories.
Byredo
Travel is on everybody's mind this holiday season, and Swedish brand Byredo captures this mood with its latest collection 'Homecoming'. Whether it's to celebrate the start of a new decade on a beach in Bora Bora, or going home to see family for Christmas – Byredo has drawn inspirations from the idosyncractic travel styles of the past in their latest launch to serve our every airport need.

The unisex collection contains modern reimaginations of late '60s suitcases, camera bags, and the forever-popular carry-all – just to name a few – in black and white and with bright pops of colour throughout. More than just handbags and carry-ons, Byredo's latest launch helps us detect our checked-in bags on the carousel with its new luggage tags in bright orange, sky blue, and forest green. You'll see us with the Packer's Delight in black slung over the shoulder when we're coming home for the holidays.
Troubadour
As the days grow shorter, wetter and all around more miserable we are actively searching for ways to survive the winter in style, and London-based brand Troubadour (opens in new tab) has just the thing to brighten up our daily commute. Making a shining example of fashion and function, the new Reflective collection is constructed from an innovative fabric containing tiny glass beads, rendering the rucksacks reflective in low light conditions.

True to Troubadour's signature minimalist and utilitarian design, the new backpacks are made practical with bright details such as concealed waterproof zips, a detachable pouch with multiple pockets, and a trolley sleeve that cleverly slides over a suitcase handle. We look forward to upping the safety when walking, running, or cycling home from work in the dark. Or maybe we'll just grab our rucksack on our way to Heathrow in search for a warmer climate?

Aviteur
Gucci is synonymous with its interlocking 'GG' logo, which today you'll find emblazoned across its bags, belts and bomber jackets. But when Patricia Gucci – granddaughter of Gucci's founder, Guccio Gucci – was developing the signature elements of her new carry on luggage designs – ubiquitous graphics were the last thing on her mind. 'The carry-on market is fairly polarised, with generic utilitarian bags at one end and luxury brands at the other,' she says of the gap her label Aviteur (opens in new tab) seeks to fill. 'There was nothing for people like me who want an elegant, unique product without the logos.'

The resulting design is a sleek leather carry on suitcase in supple black, tan or grey leather, which boasts a luxurious Paglia di Vienna weaved panel at its center, inspired by cane luggage from the Sixties. 'Above all I wanted to re-invent the handle', Gucci adds, of the style which, in a blend of heritage and modernity, boasts a transparent Lucite handle, silent wheels and aluminium components. A frequent flyer, Gucci had a strong vision of the subtly luxurious luggage she had in mind. Her design nods to the glamour and va va voom once associated with aviation, and is an excellent essential for those that travel in style in the most esteemed of classes.

Globe-Trotter
For the ultimate in schussing style this winter, may we introduce to you Globe-Trotter's St Moritz collection. Sure to make you feel après-ski chic, its range of alpine travel accessories come in retro, 70s-inspired shades and include suitcases and trolleys, in powdery cream, navy and red. We'll be making sure we're primed for pole position with this Vanity Case, which for practical travellers, comes complete with a fitted jewellery tray and protective 3-digit combination lock. Time to hit the slopes!
Rimowa at Sotheby's New York
When it comes to limited edition collaborations, few companies can top the trail that Rimowa has blazed. The luggage company boasts a list that includes the who's who of contemporary culture, be it artist Daniel Arsham, designer Virgil Abloh and the cult streetwear label Supreme. However, for the first time, Rimowa offers a look into its past with the unveiling of its archive collection at Sotheby's New York. Shining a light on its lesser-known heritage, the exhibition, 'Rimowa Archive Collection 1898-2019' traces the company's history from its beginnings as a saddlery shop in Cologne to producing the signature grooved aluminum it is known for today. Collected over a two-year period from private collections around the world, the newly instated archive ranges from antique specialty cases for instruments and wooden steamer trunks, to the first camera cases and the iconic attachés commonly spotted in spy and action movies of the mid 90s. Its popular contemporary releases have also been trotted out for the occasion, including the latest – a joint effort with Dior and a pearlized rose version of its Essential Lite case. 'Rimowa Archive Collection: 1898 – 2019' is on at Sotheby's New York until 25 September 2019.

Floyd
Have you always seen yourself as a pro skater, mastering Ollies and Heel Flips and hanging out on top of a half pipe? Floyd (opens in new tab)'s (opens in new tab) founders spent their teenage years skateboarding on the streets of their Bavarian villages they grew up in, and their Munich-based luggage label is born from a nostalgia for Kick Flips and the Californian cool cultivated by skateboarders in Venice Beach in the 1970s. Its range of hard polycarbonate shell check in and cabin bag roll-on suitcases are accentuated with modern versions of the bright polyurethane skateboarding wheels popularised by Cadillac Wheels in 1973, and are available in saturated tones of pink, white, green and blue. Bold colours abound in Floyd's designs, and its suitcase shades are equally uplifting; think California-inspired Sunset Orange, Pacific Blue and trippy Magic Purple. Practical accoutrements include a central combination TSA lock, two closable luggage compartments and a laptop compartment, and an orange nylon duster which can be used as a laundry bag. Dogtown and Z Boys-worthy tricks may be out of our remit, but Floyd will have you rolling like a pro.

Victorinox
We've all encountered panic at the airport's luggage belt, when our suitcase is an alarmingly similar shade to everyone elses. To avoid a luggage mix up, we recommend investing in the new, distinct colourways in Victorinox (opens in new tab)'s Spectra 2.0 collection. Think rich tones for your roll on, and look to the brand's lightweight, scratch resistant carrier in dark matt teal or beetroot. This design also boasts dual-caster wheels with 360-degree rotation, secure Y-Shape internal compression straps and a newly designed vertical access door should you desire something from your suitcase at lightning speed.
Horizn Studios
We've always been fans of futuristic luggage, but now Horizn Studio (opens in new tab)s has taken the concept one giant leap further. The Berlin-based label has imaginatively blasted off with a conceptual collection of luggage designed for space travel, created in collaboration with 18 year old Future Mars astronaut Alyssa Carson. The result is an astonishingly lightweight zero gravity-suited design, with a robust and flexible graphene-enhanced carbon fibre structure weighing 900g, an electromagnetic base, allowing it to secure to the surfaces of a spacecraft and an inductive charging field to ensure wireless charging. The design also boasts a vacuum function for maximum space suit and freeze dried food storage and a silver-ion enhanced compartment which neutralises germs and clothing odours. Should you miss earth when space tourism becomes reality, there's also an inbuilt smart screen ensuring interstellar adventurers can phone home.

Rimowa x Alex Israel
Alex Israel's airbrushed gradient sky paintings allude to the paradisal ombré sunsets in Hollywood films. LA has long inspired the artist, who was born in and is based in the cinema soaked Californian city, and now his latest collaboration with Rimowa (opens in new tab) on a series of sunset toned aluminium suitcases, means that you too can take home a slice of La La Land. With Israel, the luxury suitcase behemoth has created its first series of colour graded suitcases, which are based on the shades in that artist's 'Sky Backdrop' and 'Untitled (Flat)' paintings. The limited edition styles also boast colour-matching wheels, custom luggage linings and a set of stickers featuring graphic illustrations of famed LA landmarks and Israel's artworks. We'll be wheeling ours into the sunset as soon as possible.

Troubadour
As summer days draw closer, we've got a real sense of adventure in mind. Lucky for us, London brand Troubadour (opens in new tab) has launched an Explorer range, that has the answers to holding our intrepid accessories. The label's latest lightweight rucksacks have high performance on the agenda, and are created using a waterproof fabric with anti-microbial linings that never degrade. We're particularly carried away by this Bivy style, which transforms from a backpack to a zip-up tote bag. Its retractable water bottle holders mean we'll be hydrated whether we're hiking up the Himalayas with the Bivy on our back, or simply carrying it to do the weekly shop on a Sunday.

Away
It's all well and good that today, boarding passes can be downloaded to our mobile phones. Digital check in systems mean less wasted paper and less to pile into our document holders. But we've all encountered a dying mobile phone battery bearing our boarding pass, as we travel through the airport to our departure gate. If, on your dash past Duty Free, you've noticed passengers smugly charging their mobile phones from a battery pack plugged into their carry-on suitcase, they've probably purchased a piece of Away (opens in new tab).

The direct-to-consumer American travel brand which launched in 2015, has already sold over 1 million suitcases. It was featured on Forbes' 'Next Billion-Dollar Startups' list in 2018 and is estimated by the expert business title to have a $700 million venture-capital valuation. Since its launch, the brand's luggage options have lifted off, and include its soft soldout backpack, which has a 9000-person strong waitlist, and a range of affordable polycarbonate or aluminium suitcases in various sizes. When we next jet off, we'll be wheeling Away's sleek and functional 'The Bigger Carry-On', which boasts an ejectable battery pack, a concealed laundry bag, and even an interior compression system, which is an essential for over packers out there. Next time you're at Departures gate, you'll be the smug traveller, with a mile-high travel mindset.

Globe-Trotter
As we forge through February, we've begun fantasising of sunnier climes to escape to and explore as the spring months roll through. Our travel luggage of choice when leaving for sunnier destinations? Enter Globe-Trotter's (opens in new tab) Riviera collection, one which boasts a range of the English brand's signature suitcases in a sumptuous range of striped sorbet shades. We've been particularly carried away by this Trolley Case in delectable pink lemonade. We'll be ensuring it carries all our poolside essentials on our next pitstop to Portofino. What's more, its tones will coordinate with our beachside deckchair.

Rimowa x Olafur Eliasson (opens in new tab)
We've always had a penchant for personalising our luggage, whether it's with a monogram of our initials, or with a spectrum of stickers. No wonder, then, that we're eagerly anticipating Rimowa's collaboration with Danish-Icelandic artist Olafur Eliasson, on a collection of 46 nature-inspired luggage stickers.

Eliasson is renowned for his large-scale installations, which employ elemental materials. His sticker offering, titled 'A collection of stone, lava, meteorite, ice, driftwood and lichen' is naturally-inclined and features images of fragments of geodes, rocks, rainbow refractions of light and slogans including 'ecosystem' and 'climate action'. The stickers also bear the phrase 'The future is solar powered', and nods to Eliasson's Little Sun Foundation, a company aimed at bringing solar powered products to those without access to clean energy. All proceeds from the collection will be donated to the Foundation, and are sure to bring not just a sustainable standpoint to our travels, but a little sunshine too.

nanamica x Spike Jonze (opens in new tab)
For American movie director Spike Jonze, The North Face represents a lifelong relationship, dating back to his childhood and his memories of family camping trips. The Tokyoite brand nanamica has brought them together in a collaboration that sees Jonze rework the 3Way Bag and the Shuttle Roller, originally designed by The North Face Purple Label, with a check wool in two colourways crafted by Italian textile house PARA. Adapted to an active lifestyle, the 3Way Bag can be carried as a briefcase, shoulder bag or backpack, while the Shuttle Roller has many storage pockets on the outside to place all your travel essentials. They can also be matched together, making them the perfect partners when travelling on the go.

Fabbrica Pelletterie Milano (opens in new tab)
In the age of working agile, responses usually come from a quick note drafted on a mobile device. However, Fabbrica Pelletterie Milano's Workstation brings a whole new meaning to the on the go office. Industrial designer Marc Sadler presents an ergonomic travel workspace, which includes a collapsible wood and leather stool, fold-out desk, and padded drawer spaces, which all fit into the tidy confines of a secured aluminium shell. Complete with cognac-coloured Italian leather fixtures and sturdy dual wheels, the workstation can be rolled on through business lounge and set-up wherever you deem fit.

Stow (opens in new tab)
London-based travel accessories label presents sublime storage solutions for endlessly travelling tech users. Fumbling around the bottom of your bag in search of that pesky charging cable can be a thing of the past with the aid of its First Class Tech Case. Crafted from smart Spanish leather, in a range of contrasting colour ways, the case allows you to hold your documents, powerbank, and notebook with orderly organisation. With a shape inspired by traditional leather writing cases, it's a perfect companion for elegant on the go communications.

RAF 100 x Globe-Trotter (opens in new tab)
Bringing new mileage to sky-high design, British luggage label Globe-Trotter has paid tribute to the Royal Air Force's Centenary Year with its RAF100 collection, designed to accompany pilots on both training and mission flights. We'll too be jetting off with this trolley case, boasting a sleek and sturdy aluminium shell, and a surface featuring a double line of rivets, which evoke the motifs found on RAF aircraft. Should you need to grab something from your suitcase in-transit, the style has also been specifically designed to open lengthways, so you can simply reach inside when the suitcase is upright. Mission accomplished.

Montblanc (opens in new tab)
For those with striving for incognito inflight style, #MY4810, Montblanc's latest luggage collection offers a pared-back, monochromatic fit. The brand's newest offering is constructed using a blend of lightweight polycarbonate and sleek leather trimming. Blending Japanese and German functionality, Japanese 360-degree ball-bearing wheels offer a smooth glide through airport terminals, while a German precision handle bar, allows travellers to adjust to any height. As well as the signature grooved 'M' pattern of the design, customers can even personalise the Italian leather insert of the case with their initials. The new range is available in five different sizes, and we'll be investing in this cabin size trolley, a sublime fit for all those upcoming summer short hops.

Rimowa (opens in new tab)
In our March 2018 issue (W*228), we took an exclusive look at the new visual identity of Rimowa, under the directorship of the German house's new then 25-year old CEO Alexandre Arnault. Rimowa, which was acquired by LVMH in January 2017, has recently showcased a series of fashion collaborations, including April's sellout design with Supreme. Now, the label has released the second iteration of its collaboration with Fendi; a cabin trolly in two new blue and red colourways. Its brushed aluminium case boasts a double 'F' logo, with an eye-catching buckled belt. The brand has also launched a distinct suitcase design in collaboration with Virgil Abloh's Off-White (pictured above). It features a polycarbonate transparent case with contrasting black handles and wheels, encouraging a tidy approach to packing.

ROAM (opens in new tab)
With a founding team including Charlie Clifford, founder and longtime CEO of Tumi, and Larry Lein, former executive vice president and architect of Tumi's brand strategy, ROAM has taken luggage customisation mile-high. Customers are able to select a suitcase style in eleven colours, be it Coconut Cream (pictured) or Safari Green, and then customise its elements (wheel hubcaps, zipper, carry handle, et al.) according to over a million different combinations. The US-made suitcases are constructed from lightweight and sturdy polycarbonate, ensuring that your chosen style is powerful not just in personality, but in strength.

Bottega Veneta (opens in new tab)
The Italian label's trolleys, document and passport cases can now be given a little extra personalised pizzazz. If Bottega Veneta's signature Intrecciatio weave leather isn't alluring enough, why not stamp it with a graphic monogram? Take inspiration from the style above, and opt for shadow letters in subtle grey, or encourage head-turning at Heathrow or Hong Kong International Airport with a personalised stamp in bold red or blue.
Jack Moss is the Fashion Features Editor at Wallpaper*. Having previously held roles at 10, 10 Men and AnOther magazines, he joined the team in 2022. His work has a particular focus on the moments where fashion and style intersect with other creative disciplines – among them art and design – as well as championing a new generation of international talent and profiling the industry's leading figures and brands.