Life's a beach: Lucien Pagès' holiday takeover makes a splash at Colette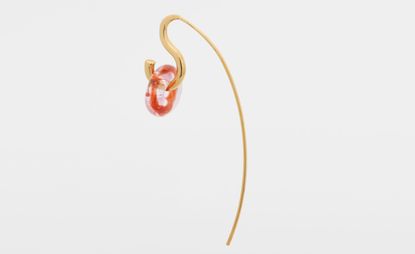 (Image credit: Charlotte Chesnais)
In the Vinson View in our March issue Style Special, Wallpaper's Picky Nicky recalls taking the Eurostar from London to Paris in 1997, intent on visiting the now-iconic concept store Colette for the first time. Last month, the boutique's creative director Sarah Andelman, who founded the store 20 years ago with her mother Colette Roussaux, announced that in December this year, the store would close its doors.

Thanks to a collaboration with the renowned French PR Lucien Pagès, every cloud has a silver lining. From today until 2 September, and for Colette's final summer at its Rue Saint-Honoré address, Pagès is commandeering the second floor of the store with 'Les vacances de Lucien'. The takeover, inspired by poolside and sun-drenched vacations – and those that Pagès enjoys with the prestigious brands he represents – features a curation of new holiday-focused pieces, created by designers including Olympia Le Tan, Jacquemus and Lemaire.

Also making a splash on the second floor are Charlotte Chesnais and Elie Top, two of Wallpaper's favourite Parisian jewellers. 'I love vacations with Lucien,' Chesnais says. 'We swim we eat, we laugh and listen to cheesy songs'. With taking a dip on her mind, she has created an exclusive pool-inspired version of her 'Swing' earring, a sculptural hook shape design, which features a dangling hoop.

Chesnais' special-edition piece boasts a brown blown glass doughnut resembling a rubber ring. 'I designed some orange glass blown bracelets for the S/S 2012 Balenciaga show, and I really wanted to work with this material again. I wanted to make a super fresh version of the "Swing" design, and the coloured glass ring abstractly evokes the colourful inflatables you see on every beach,' she says.

'Thanks to Colette, I have the joy of spending my yearly vacations with Lucien in two places at once: in the Cévennes, his birthplace, and in Paris, where we both live,' says Elie Top. For the Colette takeover, the jeweller has illustrated a pack of playing cards with motifs from his 'Cosmogonie Secrète' collection, one inspired by elemental signs and zodiac motifs.

The card's pack features pen and ink illustrations of lions and eagles, which are seen on rotating intaglios on rings and bracelets in the collection, and used to evoke the 'Earth' and 'Air' signs. 'Each element represents one of the four suits in playing cards,' he says. 'They quickly and naturally gave me the idea for the game'. So as high summer hits, Top's poolside playing cards and Chesnais' rubber ring are sure to have you feeling flush.
INFORMATION
'Les vacances de Lucien' is on view until 2 September. For more information, visit the Colette website (opens in new tab)
ADDRESS
Colette
213 Rue Saint-Honoré
75001 Paris
VIEW GOOGLE MAPS (opens in new tab)