'It's a new beginning': Lucas Ossendrijver on his first capsule collection for Theory
Lucas Ossendrijver makes his return to fashion – four years after leaving his role as Lanvin's menswear director – with a debut men's and womenswear collection for New York-based brand Theory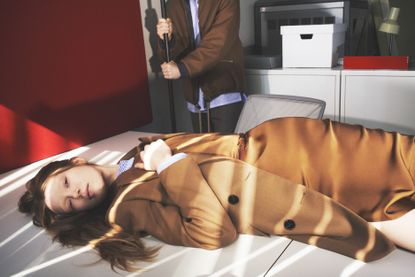 (Image credit: David Sims)
Dutch designer Lucas Ossendrijver notes that those purchasing his inaugural capsule collection for New York-based clothing brand Theory will not find his own name anywhere on the garment. Instead, the interior label will read 'Theory Project', which is described in the accompanying notes as 'a space to elevate the brand through collaboration with top talent'.
It says something of Ossendrijver's understated approach, which is rooted in the materiality of clothing; at Lanvin, where for 14 years he was menswear design director for the label, he married elegance and functionality, elevating the quotidien with innovative techniques and rich fabrications (notably, he incorporated hiking and sportswear elements into his collections, which are now ubiquitous both on and off the runway). He also had a knack for the unexpected – a vivid flash of colour in the lining of a coat, or the lace of a shoe; fabrics edged with trailing threads, as if coming apart at the seams; a tuxedo cummerbund cut from technical neoprene.
Theory Project: Lucas Ossendrijver's debut collection for Theory
Such fixations continue to inform the new collection, which will mark Ossendrijver's return to fashion having exited Lanvin in 2018. In the time between, he admits taking some time to consider his place in the industry, before beginning the collaboration with Theory in 2020 (it was not entirely out of the blue; Ossendrijver had met Theory Inc CEO Andrew Rosen 'years before' and continued conversations ever since). Comprising both men's and womenswear, it is the designer's first foray into the latter – an opportunity which attracted him to the project, as he saw womenswear as both a challenge and a natural progression of his work.
'I started during the pandemic, and I was really looking for something that to me felt relevant and new,' Ossendrijver says in a call from New York, where he splits his time with Paris (the French city remains his primary residence, while he comes to New York every six weeks or so). 'Theory is such a big brand, it has a wide reach, it's not niche. These clothes are going to be in a lot of stores, and I like the idea that they're really made to be worn on the street. They're made to make people's lives easier, and help them function and get on with life.'
The street, Ossendrijver says, is one of his driving inspirations for the capsule; in particular, the street style of New York itself, a city synonymous with Theory, which was launched by Rosen and Elie Tahari in 1997 (indeed, the mainline collections still retain the sleek minimalism of the era, and feel distinctly American in design). Despite what he deems his own European sensibility – which might be visible in the collection's fastidious approach to fabrications and craft – the 'unexpected' element he desires in his collections comes from viewing the way New Yorkers dress on his visits to the city.
'New York, for me – it's something about the way people dress. It's casual, but at the same time quite sophisticated. It's this mix of things; I find it interesting looking at the way they style themselves. The boys, in particular, are very aware of how they look, without ever looking too much.'
The collection itself, which arrives in stores today (7 September 2022), is described by Ossendrijver as a series of 'individual' pieces for men and women designed to be mixed and matched and 'made the wearer's own' (several pieces can also be worn across genders). The focus is largely on archetypal garments – a parka jacket, a tailored suit, a silk slip dress – though each is designed with Ossendrijver's meticulous touch, the various pieces succumbing to rigorous fittings and changing fabric choices, the latter particularly important to the collection.
'We pay a lot of attention to fabrics,' he says, noting that such choices have been simplified by Theory's vast network of suppliers and producers. 'I want to be able to offer a product in really good fabrics, at a price point that's almost unbeatable.' Several fabrics, he says, are of the same quality as he was using at Lanvin; sustainability is 'paid a lot of attention' at Theory as a whole, here appearing in recycled nylons and wools or fabrics traceable from farm to mill.
Ossendrijver notes one particular parka jacket, constructed from bonded technical GoreTex with clean taped seams, as epitomising the project at large. 'It's completely unlined, so it has a cut that's very specific with a rounded sleeve,' he says. 'It's waterproof, it's super-light, super technical. But it also looks really stylish, visually interesting.'
'I try to keep things simple and direct, and not get lost in too many details or difficult constructions,' he continues. 'Theory is a brand on the minimal side of things, but to me minimalism means being to the point, doing what's interesting and what's necessary and not going over the top. I've always worked on things that are in-between: between formal and casual, workwear and suiting. I love these hybrid clothes.'
The initial collection is released alongside an accompanying lookbook by British photographer David Sims, in a first collaboration between the pair (though Ossendrijver notes Sims' work has been a pervasive influence throughout his career). 'He's iconic, he's an idol,' he says, the pair working together to create a series of images backdropped by the rooms of a mundane – but vaguely surreal – corporate office block. 'I wanted the campaign to feel like office buildings in New York, with a twist. It's almost like a bunch of cool kids took over the office space.'
This evening in New York, Ossendrijver will be holding a takeover of his own, hosting an event to launch the collection outside Theory's flagship store in the city's Meatpacking neighbourhood. Open to the public, who will join close friends of Ossendrijver and the label, a series of dance performances – imagined by four different New York-based choreographers, Kyle Abraham, Heidi Duckler, Rashaun Mitchell and Silas Riener – will capture the various clothes in movement.
'I never wanted to do a fashion show. It made sense to centre it around New York and movement. Contemporary dance has always inspired me. It's not super intellectual, you dance, you can understand it. You just have to feel it.'
Back at the beginning of the project, in 2020, Ossendrijver worked alone from his apartment as the world shut down ('it was a lot of Zoom meetings with people I had never met or didn't know, DHL and FedEx deliveries of fabrics'). Now, he speaks from a meeting room in Theory's buzzing New York offices, having just completed the final edit of his second Theory Project collection (he is already mid-way through a third). Also in process is the opening of a studio in Paris, with his own dedicated design team.
'It's not a one-off, it's going to continue – it's almost like a new beginning. To do a capsule, and to not do everything, means I don't have any constraints or even pressure. I feel completely free.'
INFORMATION
theory.com/theory-project (opens in new tab)
Jack Moss is the Fashion Features Editor at Wallpaper*. Having previously held roles at 10, 10 Men and AnOther magazines, he joined the team in 2022. His work has a particular focus on the moments where fashion and style intersect with other creative disciplines – among them art and design – as well as championing a new generation of international talent and profiling the industry's leading figures and brands.