Night at the museum: Louis Vuitton takes a trip to the Louvre for A/W 2017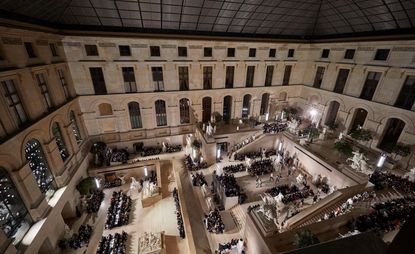 (Image credit: press)
Nicolas Ghesquière has taken guests to a host of futuristic show locations, from the late Bob Hope's estate in Palm Springs, designed by John Lautner, to the Oscar Niemeyer-designed Niterói Contemporary Art Museum in Rio. For A/W 2017, the creative director looked closer to home, holding the Paris-based brand's womenswear show in the splendid Cour Marly of the Louvre, the first fashion show ever to be held inside the world's most visited museum.

Founded in Paris as a luggage shop in 1854, Louis Vuitton is a label synonymous with luxurious travel, and this is a concept that Ghesquière has bought a futuristic slant to since his appointment in November 2013 – his S/S 2016 collection was a sci-fi heavy interpretation of the digital age, featuring an electrical screen and a mirrored runway set. The A/W 2017 location, however, looked back to the lifestyle of Louis XIV, the cavernous Cour Marly housing a selection of 17th and 18th century bronze and marble sculptures, by artists including the brothers Nicolas and Guillaume Coustou and Pierre Lepautre, originally commissioned for the Château de Marly gardens, the King's countryside outpost.

Guests entered the museum through its grand glass pyramid entrance in the main courtyard, descending its sleek spiral staircase into the underground lobby, before continuing to the Cour Marly in the Richelieu Wing. The space also features a curving glass ceiling, designed in 1993 by IM Pei and Michel Macary, a modern contrast to its marbled arches and staircases.
The Louvre's Cour Marly space houses a selection of grand sculptures, crafted by artists including Nicolas and Guillaume Coustou and Pierre Lepautre

Throughout the show, Ghesquière emphasised this blend of futurism and classicism. Frank Oceans's Antony and Cleopatra featured in its soundtrack, the lyrics 'she's working at the pyramid tonight' alluding not just to Shakespeare's portrayal of an ancient Egyptian tragedy, but to the glass entrance of the show's museum location. The collection too blended a variety of references, from classic fur coats, folkloric knits and crafty patchwork slip-dresses, to more modern biker-inspired leather jackets and sporty zip ups. Silk evening dresses were paired with more athletic knee high socks, featuring go-faster stripes and a wetsuit finish, while classic tweed jackets were offset with more modern interpretations of the fabric, seen in colourful asymmetric tweed dresses with high-shine finishes.

A print which featured on on a colourful chunky knit jumper looked like both the tyre print of a motorbike and the geometric pattern on a Grecian urn, while huge industrial lights – a contrast to the statues they stood beside, representing ancient gods and goddesses, allegorical figures and winged horses – illuminated the models as they wove throughout the space. Their huge shadows were reflected against the walls of the courtyard, classical statues and modern figures of fashion coming together for the first time at the Louvre, as one.
INFORMATION
For more information, visit the Louis Vuitton website (opens in new tab)