Louis Vuitton Island, Singapore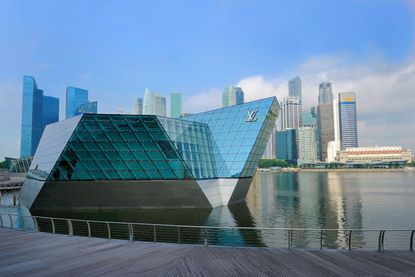 (Image credit: Louis Vuitton)
Moshe Safdie's spectacular Marina Bay Sands resort is the gift to Singapore that keeps on giving. As if the hotel, casino, mega-mall, skating rink and rooftop infinity pool weren't enough, now one of two glass-and-steel pavilions Safdie built at the edge of the bay has opened as a Louis Vuitton Island 'maison'.
The label hired longtime Vuitton collaborator (and architectural provocateur) Peter Marino to outfit the Safdie 'crystal' with an interior reminiscent of a luxury cruise liner. Marino has designed all Vuitton's 12 maisons worldwide, but the setting of Singapore's has guaranteed a unique experience for the label-loving Asian market. Visitors can access the flagship (LV's fifth location in the small country) by bridge; by 'travelator', which ascends into the centre of the showroom from an underground tunnel; or, naturally, by private boat.
In the more intimate lower rooms, which house fine jewellery and the men's 'universe', Marino covered the floors and panelled the walls in shipbuilding timber buffed to the nines like a Monte Carlo cruiser. An angular staircase with a nautical balustrade cuts across the place and carries visitors up past a Ruben Toledo cityscape to the sun-splashed upper decks. Here, floating ceilings and window shades angled like trapezoidal sails control the natural light yet maximise the 360-degree views; Marino positioned the showrooms around the core of the building, so shoppers can look out from the perimeter.
There's no shortage of spaces in which to luxuriate: high rollers enjoy exclusive presentations in the private lounge, and a loggia off the mezzanine overlooks the harbour like a ship's upper deck. But Marino, who is perhaps most famous for his exhibitionist's wardrobe of black leather chaps and matching accessories (see Wallpaper* 138), comes into his own in the women's universe, where he's suspended ships' masts from the 11m ceilings like trapeze swings.
Then, over the women's accessories department, he's hung a 15m by 8m twisted-wood sculpture called Upper Strut, by British artist Richard Deacon. Viewed from different perspectives and from different floors, the artwork appears to move dynamically across the soaring expanse. It can make you feel a bit delirious - but, frankly, that's not a bad state of mind for a shopper.

Receive our daily digest of inspiration, escapism and design stories from around the world direct to your inbox