The photographic freedom behind Gerbase's Confinement Diaries
In her eponymous brand's Confinement Diaries, Paula Gerbase has enlisted photographers to shoot her Skins knitwear pieces from self-isolation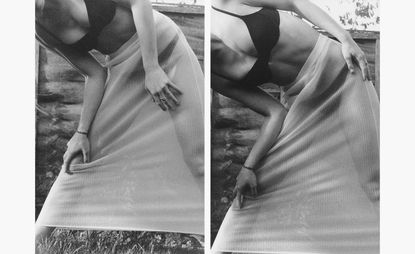 (Image credit: Laura Jane Coulson)
'A week into lockdown in the UK, myself and the creatives I work with were feeling trapped and uneasy,' says Paula Gerbase. 'The only freedom we could reclaim was the ability to create'. It's this collaborative and innovative urge which has inspired the designer's eponymous brand's Confinement Diaries, a photographic project which sees different creatives, quarantined in locations from London to Gassin, shooting images incorporating Gerbase's second skin knitwear.

The first chapter in the series saw the couple, photographer Maté Moro and visual artist Borbala Szanto, create images that play with sky, shadow and still life. The second saw photographer Ronan Mckenzie shoot playful images that celebrated the bold contours of the body, and juxtapose the narrow and delicate tubular details of Gerbase's designs against graphic gold jewellery. The third, previewed here, sees Devon-born London-based Laura Jane Coulson shoot Gerbase's feather light ribbed pieces on her close female friend and isolation partner Rosie Marks, in her garden.
Familiar with the commercial constraints behind photographic advertising campaigns, Gerbase was attracted to the creative freedom behind the Confinement Diaries' images. 'I cycled to Laura's house and dropped a set of Skins at her door,' she explains. 'I thought "take them, be playful, there's no end goal"'. Coulson's chapter culminates in a greyscale toned shots which celebrate movement, female form and companionship. 'There's a tender exchange in the images between Laura and her friend,' Gerbase adds.

'I've felt so grateful that as soon as I shut the door of my house, I feel cocooned without a sense of danger,' Gerbase adds of her self-isolation experience. Conscious that homes aren't a haven for all, prints from each photographer's project will be offered framed to purchase as a limited edition on her brand's website, with all profits from sales being donated to Women's Aid.
INFORMATION