Unwind with Jonathan Anderson's self-isolation reading list
Take a leaf out of Jonathan Anderson's book, and swat up on his five recommended volumes to read during self-isolation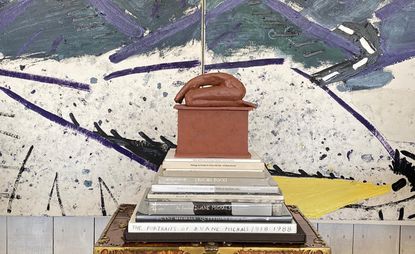 (Image credit: Jonathan Anderson)
Spanning fiction, photography and craft, these page-turners are sure to keep you entertained and educated, and will also heighten your understanding of the eclectic world of the founder of JW Anderson and creative director of Loewe.
Paul Thek: Diver, A Retrospective – Lynn Zelevansky & Elisabeth Sussman
Jonathan Anderson dressed his S/S 2020 and A/W 2019 menswear show spaces with artworks by Paul Thek, and owns a group of 1970s bronze sculptures by the American artist. This monograph accompanied Thek's first US retrospective at the Whitney Museum in 2010.
Queer – William S Burroughs
Penned in 1952, this short novel wasn't released until the 1980s. Autobiographical, but written from the perspective of William Lee, it documents life as an American expatriate in Mexico City.
Less than Zero – Bret Easton Ellis
Ellis' 1985 debut novel documents the cultural and social disillusionment of privileged college student Clay, who returns to his Los Angeles home for winter holidays, and experiences a range of shocking encounters involving sex, drugs and death.
RELATED STORY
The Adventures of Constantine Cavafy – Duane Michals
In this 2007 volume, the renowned American photographer uses grayscale images of human interaction, to loosely illustrate the works of twentieth-century Greek poet Constantine Cavafy. A stack of books about Michals sit in Anderson's study at home.
The Crafts in Britain in the 20th Century – Tanya Harrod
This book accompanied 'The Pleasures of Peace: Craft, Art and Design in Britain from the 1940s to the 1960s', which opened at the Sainsbury Centre at the University of East Anglia, UK in 1999. Surveying a range of disciplines, from ceramics to silversmithing, it provides an expansive introduction into Anderson's obsession with craft
Information
jwanderson.com (opens in new tab)
loewe.com (opens in new tab)