Johnstons of Elgin cashmere: 'We're the forerunners in sustainability'
A visit to any factory is one of discovery and drama. Johnstons of Elgin – home to the world's finest cashmere since 1797 – doesn't disappoint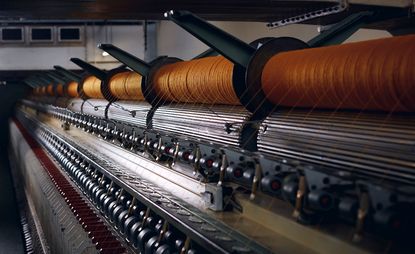 (Image credit: press)
Around the Johnstons of Elgin mill, located to the south of the River Lossie in northern Scotland, notes are pinned to walls or scrawled on white boards. In the dye house, key objectives of 'quality, environment' are written down. The acronym TIM WOODS appears as a laminated sign in various sizes, spelling out: Transportation, Inventory, Motion, Waiting, Overprocessing, Overproduction, Defects and Skills – eight of the most common areas of waste requiring attention. Outside, sunlight dapples clumps of thistle while inside, tufts of cashmere float in the air before being sucked into metal tubes. It is a cavalcade of craftsmanship and character.
As a label in its own right and as a manufacturer for many of the world's foremost brands – who remain strictly unnamed – Johnstons of Elgin plays a unique role in the cultural heritage of the UK. 'It's a pioneering spirit, definitely, being the first in the country to weave cashmere. Now it feels that we're the forerunners in sustainability and people are looking to us,' says Jenny Urquhart, company chairman and fourth generation member of the Johnstons family.
Inside Johnstons of Elgin's mill in northern Scotland
Within luxury circles, the company's environmental credentials were something of classified folklore. A driver of more sustainable fashion, it is now one of three founding members of the Sustainable Fibre Alliance and is aiming to use 100 per cent certified cashmere by 2024. An astonishing 1.2 million goats are part of its supply chain and it is now working alongside young Mongolian herders to address sustainable grassland management in the context of local customs.
'In terms of that question, "When did you first become aware of sustainability?", we didn't really think about pushing it as it was very natural to us,' says chief executive officer Chris Gaffney. 'Our supply chains are like extended family, so we naturally want to understand how they work. And because we've always done such a large amount within our own walls, we know the ins and outs of every process better than anyone else.'
More than the company chair, Urquhart is a custodian for the business and wider industry. 'It's something I was talking to my brother about recently, what happens if none of us are here and none of our children are here? What do we want? That driving force has always been about what's going to be best for the community. It means so much that we can provide meaningful employment in these semi-rural locations in Scotland.
'The whole purpose of Johnstons of Elgin is for the benefit of the community,' she says. 'In terms of what we make, you could plant one of our blankets back into the ground if you wanted to! We don't suggest you do, but what we would say is: treasure it.
Information
London based writer Dal Chodha is editor-in-chief of Archivist Addendum — a publishing project that explores the gap between fashion editorial and academe. He writes for various international titles and journals on fashion, art and culture and is a contributing editor at Wallpaper*. Chodha has been working in academic institutions for more than a decade and is Stage 1 Leader of the BA Fashion Communication and Promotion course at Central Saint Martins. In 2020 he published his first book SHOW NOTES, an original hybrid of journalism, poetry and provocation.