Jewellery designer Hannah Martin teams up with TDO architects and Corian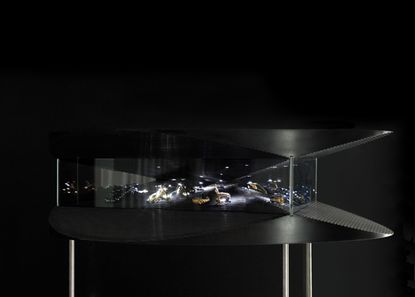 (Image credit: hannah-martin.store)
Hannah Martin belongs to a rare breed of designers whose work resists being pigeonholed. Her jewellery treads the line between fashion design and architecture - so it seemed natural for the London-based designer to join forces with TDO architecture studio and Dupont Corian to create the perfect showcase for her new collection.

Together they have created dramatic black plinths that are reminiscent of amphitheatre stages, composed of intersecting pyramids and circles visible from all sides. Installed in the Rock Vault at Somerset House during London Fashion Week, these add drama to her new 'Delirium' collection, the last to be taken from the story 'The Man Who Knows Everything' (Martin categorises her work by 'narratives').

Collaboration is not new territory for Martin. She has previously teamed up with London's Dover Street Market on a series of window installations, and in 2011 she joined forces with Wallpaper* to create a sculptural letter opener for our Handmade issue (W*149).

Wallpaper* caught up with Hannah Martin to find out more …

This is the first time you have ever worked with architects. How did this collaboration come about?
Architecture is one of my key influences, so this project is a natural dialogue between my jewellery and TDO's skill set. The idea of collaboration came thanks to a discussion on the challenges of displaying and lighting our collections in larger-scale environments where you can't control the ambient lighting. The simple forms of triangles and circles intercept to create the light-controlled environment within.

Tell us about the theme behind your latest series.
It features shapes more bold and detailed than ever before, and in combinations of colour and material that are almost blinding: hence the name 'Delirium'. Film Noir was a theme that TDO brought to the table for this collaboration, in direct response to my approach to design through narrative. A key element that TDO wanted to play on was the presence of characters within my work, so the visible dramatisation of these became the focal point. The detailing and sculptural element within my work was picked out in detail, creating shadow through pools of severe light and dark.

What else did you want to achieve with the plinths?
I am thrilled at how these plinths bring the viewer in with 'edited' focal points. Corian was our first choice of material in order to make the structures both monolithic and precise.

What other projects are you working on now?
We have been working very closely with Hendricks on a project that will launch in the second half of this year. Within the boundaries of our brand - creating limited edition, beautifully hand-crafted, well designed objects - we are also in the process of launching HM Corporate Gifting. We are very excited at the partnerships that are forming within this syndicate of companies, and the chance to offer them all something unique and not available anywhere else.

The making of the plinths at Corian's workshops in Hertfordshire
Receive our daily digest of inspiration, escapism and design stories from around the world direct to your inbox