Hannah Martin: The Man Who Knows Everything launch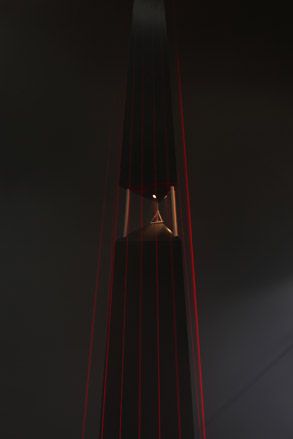 (Image credit: Mark Cocksedge)
Augmented reality technology and 12-foot obelisks aren't two things that immediately spring to mind when it comes to jewellery launches, but then again this is Hannah Martin we're talking about - queen of the London urbanite jewellery scene and purveyor of architecturally bold pieces that work to push against the staid adornment grain.
Taking over Dover Street Market's window spot for the next two weeks is an installation which the luxury jewellery designer has collaborated on with the Mayfair store and Moritz Waldemeyer. The technology-driven German designer has placed one of the newly-launched rings in the centre of a giant obelisk, sponsored and produced by Dupont Corian, complete with laser beams. Martin and business partner Nathan Morse have also roped in good friend Joel Shea to create an eerie accompanying sound-scape, to startling hallucinogenic effect.
The reason behind the ancient references of the installation and the pieces - based on the shaman's triangle - point to Martin's new 'narrative', which harks back to a shadowy 17th century figure, the Comte de St Germain. Borrowing 'The Man Who Knows Everything and Never Dies' title from Voltaire's famous statement in 1760, Martin's deliberate use of narrative rather than wanting to label things by 'collections' led her to remembering the story of the Comte that she had read a few years ago. 'I had come back to him a couple of times, but it hadn't felt right until now. It seemed appropriate', she continues, 'Who can really explain my crushes on the fictitious characters that I create?'
The ultimate shopping experience however, has got to be Martin's collaboration with Holition - 'The East End's answer to silicon valley', according to Morse. They've created an augmented reality app, where potential buyers and browsers alike can enter a virtual world and try on one of the pieces, accessible
http://www.hannahmartinlondon.com/try-on" target="_blank" >here.
ADDRESS
Dover Street Market

17-18 Dover St

London W1S 4LT