Inside Cecilie Bahnsen's light-filled Copenhagen headquarters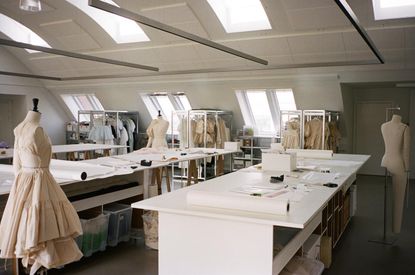 (Image credit: Elizabeth Heltoft)
Cecilie Bahnsen marks a new chapter for her independently owned brand as she moves her HQ to an expansive new home in Copenhagen. The newly renovated industrial location will operate as her atelier, office and private appointment space, underwriting the upward trajectory of her line of feminine silhouettes in technical fabrics.
Spread over two floors, the 1,200 sq m space was designed by creative agency Moon, architecture practice Stamuli, and Bahnsen herself. Bahnsen has hired Moon since her very first show to find 'the right locations and spaces with the right mood to tell the story of the brand and the collection. It made perfect sense for them to do the same for our new home,' says Bahnsen. Stamuli – which has completed stores for Alexander Wang, Ganni, Rains and Acne, and is known for creating environments that are typically spare yet forthcoming with colour – was enlisted on Moon's recommendation. 'It's really been a very easy process working with them,' says Bahnsen.
A new home for Cecilie Bahnsen
Exposed concrete and white walls allow the hyper-femininity and softness of Bahnsen's clothes to remain the focus. A challenge was making the large light and airy space functional. 'It needed to work as an everyday studio, with storage and all the things that you need in a studio,' she says. A mirrored glass box was inserted into the middle of the space to provide a meeting room, while becoming almost invisible: the mirrored surface allows Bahnsen to see samples from all angles during fittings. 'It's a beautiful feature that we use every day, and shows balance between aesthetics and functionality,' she says.
The open-plan layout encourages collaboration between departments, something Bahnsen is keen to maintain as the company grows. Nevertheless, it's not all work – she prioritised including a space where her team could meet for lunch. 'We are 27 people now; the team has grown a fair bit. It's nice for people to have time to meet and to talk about their everyday. It all connects together. To make all the "wheels" of this business turn, we need to know each other.' In the summer months, the courtyard garden will act as an extension of this 'break-out' space. 'It's a nice part of making it feel like home for the team,' adds Bahnsen.
A working studio
Bahnsen came across the 'raw and untouched' space when shooting the campaign for her Spring/Summer 2020 collection. 'I remember dreaming that this could be an incredible office space,' she says. It was only later, 18 months ago, that she started looking for new office space in earnest and discovered that buildings in Copenhagen's city centre were too small for her expanding team. 'I really wanted to have everyone together, for the team to be able to see what each other is working on,' she says. She started looking at larger industrial spaces further afield. 'A colleague sent me a picture of this space and it really felt like it was meant to be our home.'
Although Bahnsen has a dedicated office, she spends 90 per cent of her time in the atelier on the top floor, perusing the pattern-cutting tables where the design and development and the seamstresses work. 'It's my favourite part,' she says. 'It's nice to have your own space and be able to have a conversation like we're having right now, but really, it's the space with the team and the collection that inspires me.
Østerbro's creative district
'We are in a very creative area; we have studios next to us, architectural offices, a few artists and so on,' she says of her new address at Vermundsgade 38C – close enough to home that she can walk or cycle to work. 'It's an inspiring place to be part of,' she says of the Østerbro district where the property is located. Her new HQ is in the same neighbourhood as her previous studio although worlds apart, as her former HQ in Kristianiagade was situated in a basement, albeit one with high ceilings and proximity to the sea.
A collaboration of design
Bahnsen pulled in some friends and collaborators to help source and make furniture, lighting, and tabletop pieces: 'objects that I love by people that I love to work with, featuring Scandinavian design', she says. Coloured glasses and vases are crafted by glassblower Nina Nørgaard, who has previously collaborated with Bahnsen on several store concepts: 'Her colour universe complements our colours.' Studio X designed the soft yellow and steel office tables that raise and lower, that 'add a warm yet super modern touch'. Magniberg's sleek stainless steel geometric chair and side tables, Paustian's curvilinear sofas and Artek stools repurposed from previous runway shows provide seating.
Inspired by architecture
She has already noticed how architecture and interiors can inspire new ways of working, and enable shifts in creative output. The abundance of daylight not only lifts the spirits but enables the team to focus closely on detailed sewing and drawing work. 'We often don't switch the lights on and work in only natural light, it's really beautiful. You can really see the textiles and the textures which are so important to me. With the creative process and also the mood, it's been really interesting to see how daylight inspires that.' Interestingly, the studio playlist – curated by one of her design team – has also changed: 'It really sets the tone for something new.'
Open house ethos
Contrary to the secrecy that surrounds so much of the fashion world prior to collection releases, during Copenhagen Fashion Week, Bahnsen opened the doors to press and buyers, inviting them in to see what the team is working on for the upcoming show in Paris. 'It's in seven weeks,' she shares. 'It's a wonderful moment: you are working on something that you haven't quite cracked yet and it was very special to be able to talk about the sketches, how things evolve from 2D to 3D, the beading, how different elements come to life. Now we have room to do that.'
INFORMATION
Tilly is a British writer, editor and digital consultant based in New York, covering luxury fashion, jewellery, design, culture, art, travel, wellness and more. An alumna of Central Saint Martins, she is Contributing Editor for Wallpaper* and has interviewed a cross section of design legends including Sir David Adjaye, Samuel Ross, Pamela Shamshiri and Piet Oudolf for the magazine.
With contributions from