In Memoriam: Joe Casely-Hayford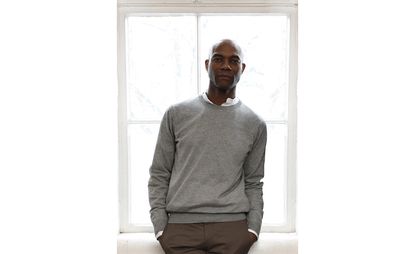 (Image credit: Katinka Herbert)
Unlike so many of his 1980s contemporaries, Joe Casely-Hayford – who died on Thursday 3 January 2019, aged 62, after a three-year battle with cancer – was a designer who could move from the iconoclasm of London street style to Savile Row establishment, and back again, with elan. For four decades he was at the top of his game: the precocious postgraduate who sold quirky tailored pieces crafted out of old military tents, the Savile Row creative director, the designer for U2's stadium tours… His career was varied, but his aesthetic was always consistent.

Casely-Hayford sustained and developed a style and a business that felt distinct from his London peers. He was the gracious tailor with an intellectual approach that embraced the cosmopolitan nature of the UK capital with smart commerce and sartorial adventure. His work was directional, but sold consistently well, while pulling from the most disparate and personal influences – from the kids on the streets of Dalston to the archives of the late House of Beauty and Culture shoemaker John Moore and artwork by his close personal friend, British artist Chris Ofili. He became the star of high-end tailoring, arguably the whitest and most conservative citadel of global fashion, and became a huge inspiration for young black designers on the ascent. For Casely-Hayford, it was all just another part of London's creativity.

His first eponymous label, Joe Casely-Hayford, ran from 1984 to 2005, until he took over at the helm of Gieves & Hawkes. Today, the revolving door of designers perceived as edgy at heritage companies spins at pace, but Casely-Hayford's three years on Savile Row genuinely changed the perception of both the house, and the future of London tailoring.
Joe Casely-Hayford, right, with his son Charlie

In 2009, two years after being awarded an OBE, he launched Casely-Hayford, with his son Charlie. While it was always the number one show to see at the early incarnations of London Fashion Week Men's, the duo were consistently looking at ways to innovate in terms of business as much as design. They offered 48-hour made-to-measure via Harvey Nichols alongside private order bespoke, and created velvet jackets in association with one of the most established of Mayfair's private members' clubs, Annabel's. The pair also introduced womenswear into the mix – acknowledging a loyal private-client base of female friends. Much of the actual design work between the two was executed on their frequent flights between London and Tokyo, where they sourced meticulous production. Last year they opened their first standalone store, on London's Chiltern Street, stepping outside of the traditional fashion seasons and cycles, which Joe saw as a redundant mode of marketing and selling.

Joe Casely-Hayford was always an innovator, from his choice of textiles – often improbably light in comparison with what Savile Row would have previously thought acceptable or even possible to work with – to the quirks of his cuts. He called it 'new conservative dressing', and it was a truly modern tailoring approach.

The Casely-Hayfords were, and remain, very much a part of the new British establishment and are as close as can be. Joe spent his final weeks leading up to Christmas 2018 and the New Year with family – his wife Maria, who he met at St Martins and who was an integral part of his business since the mid-1980s, and his children Charlie and Alice, a renowned fashion editor. Unusually for anyone in the fashion world, Joe was universally considered 'one of the good guys'. He was as kind and charming as he was talented. A child of punk as much as a product of The Row, he was a true gentleman. Also, unusually for a designer of his calibre, with his powers of invention – he was never, ever, out of fashion.
Receive our daily digest of inspiration, escapism and design stories from around the world direct to your inbox