'Highly strung' by Husam el Odeh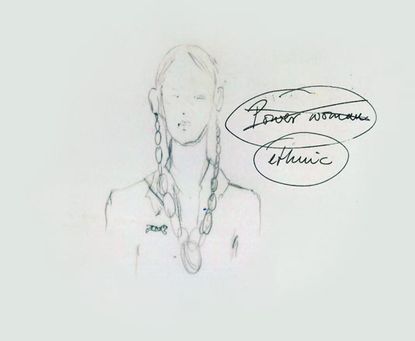 (Image credit: Press)
Always in search of creatives that take a fresh look at the conventional, Wallpaper* asked designer Husam el Odeh to capture the spirit of our favourite jewellery houses for our October issue (W*139). Known for combining every day objects and multiple pieces of jewellery to create one-off pieces, el Odeh was given free rein down Bond Street and, in his own words, was 'like a kid in a candy store'. Here he tells us about how the story came to fruition, his future plans and his dream collaborators.
What was your inspiration for the Wallpaper* jewellery shoot?
Wallpaper's fashion director approached me with the idea of creating new pieces out of pre-existing high jewellery, and shooting them on denim. From there I tried to work out what the individual house signatures meant to me, so the result is a playful take on my own personal interpretation, using their pieces.
For each shot there were individual references, like the floor length necklace made from Boucheron pieces, which was inspired by a German fairy tale, but all of the ideas are linked. For me, the concept (and reality) of high jewellery carries a sense of wonder and magic, so there is a strong romance to the whole look, but the combination of high jewellery with denim is modern and fresh.
Your style is very much about combining lots of pieces together. How did you find working with high jewellery?
I have worked with materials of this value before but it is rare that I do so. So in that sense it was really exciting and a little bit overwhelming. I felt a little like I was eight years old and playing with my mum's jewellery.
How did you get started in the jewellery world?
I started as a fine artist (I studied in Berlin at the UDK and at Chelsea) but got a little overtired of the focus on yourself as a person when you are an artist. Jewellery feels more functional. I like the fact that people wear my work on their body, which makes it much more immediate than a piece of art that is usually detached from its spectators. My approach is very broad for a jewellery designer, though, and I am particularly interested in the 'in between' areas.
Tell us about your collaboration with Acne
This started with a feature that the online edition of the Acne Paper did on my work. Jonny Johansson (Acne's founder) saw the piece and wanted to work with me, so he came to my studio in Shoreditch. I had an old sample from my university days of a pair of jeans hung on a nail, on which I had replaced the tag with metal, and he was drawn straight to that.
I developed a few pairs of jeans with 'armour' with the denim texture etched on it, and some show pieces where I covered a pair of glasses, a hat and a bag in silver. For the last season I made some crystalline metal jewellery pieces that were 'ethnic sci-fi', where we played with enamel colour accents and rough surfaces set against a high polish. I really enjoy working with Acne. Its clean aesthetic is very familiar and I really appreciate their vision beyond one type of product. I have just made a stool for their Dover Street store (which was a first for me) as a present.
What projects are you currently working on?
At the moment I am concentrating on the new season women's collections. With Acne, I am creating some stand alone jewellery pieces for their London show at Kensington palace. My own new collection will be shown in Paris. I am planning to extend it and have just begun researching the menswear pieces (next Winter) for Miharayasuhiro.
Within the jewellery world, who would it be your dream to collaborate with?
There are a lot of houses I would love to work with so it's quite hard to single one out but, at a push, I would say Tiffany, as I love their modern simplicity. I love Harry Winston's stones and cuts, and Chanel's fine jewellery would be amazing to work with.
Is there anything you'd like to design but haven't had the chance?
I would love to design watches, especially because my work is filled with a collection of fake and broken pieces, so it would be nice to design one that actually tells the time. Otherwise I like the idea of designing bags (not IT bags). If I'm really honest, a part of me would also like to design tools, although my assistant sighs at me, saying 'you are so German' when I mention that...
Jack Moss is the Fashion Features Editor at Wallpaper*. Having previously held roles at 10, 10 Men and AnOther magazines, he joined the team in 2022. His work has a particular focus on the moments where fashion and style intersect with other creative disciplines – among them art and design – as well as championing a new generation of international talent and profiling the industry's leading figures and brands.